SeaWorld Falls as Quarterly Loss Exceeds Analysts' Estimates
Christopher Palmeri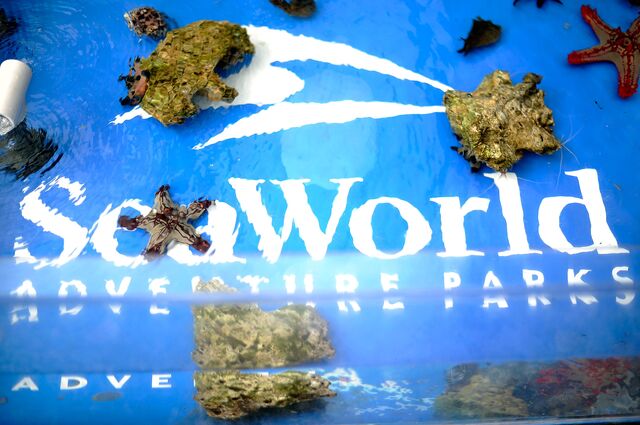 SeaWorld Entertainment Inc., the theme-park operator under fire from animal activists, posted a fourth-quarter loss that exceeded analysts' estimates as attendance fell. The stock lost 5.8 percent.
The Orlando, Florida-based company on Thursday reported a loss of 21 cents a share, excluding items, compared with the 15-cent loss projected by analysts. Revenue shrank 2.7 percent to $264.5 million, beating the $252.6 million average of estimates compiled by Bloomberg.
The company battled a drop in attendance during a typically slow quarter for theme-park operators, and incurred expenses such as severance pay related to longer-term efforts to lower costs. Attendance at SeaWorld has been hurt by a 2013 documentary called "Blackfish" that argued the company's performing killer whales shouldn't be kept in captivity.
SeaWorld fell to $19.17 at the close in New York and is up 7.1 percent this year. The company said it will provide 2015 guidance with the next earnings release.
Since the film's release, entertainers such as Willie Nelson have canceled park appearances and marketing partners including Southwest Airlines Co. have ended their relationships. SeaWorld's Chief Executive Officer Jim Atchison stepped aside last month.
Attendance for the quarter fell to 4.4 million visitors from 4.5 million a year earlier, SeaWorld said. The company owns 11 theme parks in the U.S.
Tide Turns?
"It has never been clearer that the tide has turned," Jared Goodman, director of animal law at the People for the Ethical Treatment of Animals Foundation in Washington, said in an e-mailed statement.
Some of the negative trends seen in the third quarter have begun to ease, SeaWorld said Thursday. Guest spending rose 2 percent, according to the statement.
The company has introduced promotions to lure guests back, including free parking in San Diego and a Christian concert series in Orlando, Chairman and interim CEO David D'Alessandro said on a call with investors.
The company plans a new ad campaign starting April 1 to counteract negative public opinion generated by animal activists, D'Alessandro said.
"It can best be described as a campaign about the truth of SeaWorld, and we're very, very eager to get that into the marketplace," he said on the call.
SeaWorld is continuing its search for a new CEO and should have one in place in the company's original six-to-nine month time frame, according to D'Alessandro.
Before it's here, it's on the Bloomberg Terminal.
LEARN MORE