Scene Last Night: Bottles of Patron on Every Table at Purim Ball
Amanda Gordon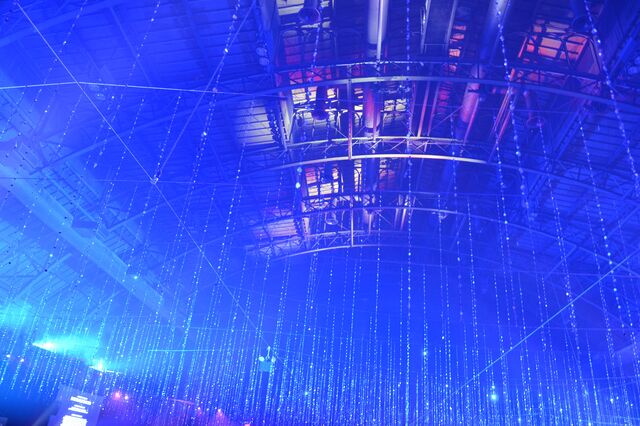 Bottle service is for nightclubs, not galas, right? Not so at the Purim Ball hosted by New York's Jewish Museum Wednesday night. Imbibing is a Torah-mandated ritual of the Jewish holiday, which only partially explains why there were bottles of Patron on every table.
In the winter, you have to keep guests warm. In the competitive world of galas, you have to stand out. And when guests range from right out of college to a few years short of 100 years old, you do what you can to bring them together. You help the old people feel young and the young people feel like, well, not fleeing.
So the lights in the cavernous Park Avenue Armory were dark, the music thumping, though not too loud to have a conversation, and yes, ample supplies of alcohol were on offer including, at the start of event, miniature margaritas and shots of cherry sake devised by caterer Peter Callahan. To be clear, though, moderate consumption was just one of the factors contributing to the happy mood.
Jacques Brand, head of Deutsche Bank's U.S. business, said he was feeling great about his firm's hiring of Jeff Urwin from JPMorgan. He added that he and Urwin had both worked at Lehman and had known each other for years.
A few feet away, Doug Korn of Irving Place Capital Management greeted Robert Pruzan, co-founder of Centerview Partners. "How's business?" asked Korn.
Cheerful Line
Some of the others doing the let's-network-for-a-second were Bennett Goodman, head of credit and board member of Blackstone Group; Jonathan Crystal, chief financial officer of Crystal & Company; and Jeffrey Aronson of Centerbridge Capital Partners.
Pruzan tossed off a cheerful line about business before turning to his preferred subject of the night -- the museum. Pruzan, its chairman, said the event would raise $2 million, but what he really wanted to talk about was the "buzz" that director Claudia Gould has been building by making the museum more "outward" and oriented toward contemporary art.
"If we didn't morph, we'd die," said Craig Effron, chairman of Scoggin Capital Management and a long-time museum trustee. He joined the board driven by a sense of communal obligation and expects the next generation to be attracted for other reasons. "They want to be here not because it's the Jewish thing to do, but because it's an exciting place to be," Effron said.
After-Party
To get younger people engaged, the museum created a gala after-party three years ago. Effron's eldest son, Jared, who works in asset management at the Witkoff Group, is a co-chairman of the event. The bash has flourished, drawing 300 people in its first year and more than 500 this year.
So although the 26-year-old enjoyed dinner sitting in between his grandmother and his girlfriend, you could tell he was eagerly anticipating the latter half of the evening, when the dinner tables and those bottles of Patron were cleared for dancing, temporary metallic tattoo stations, and two busy bars.
This all took place under event designer David Stark's chic and simple canopy of hundreds of small mirrors dangling from string like chimes. They created a very sparkly effect, or as David Klein of diamond retailer Leviev put it, there was lots of "bling."
Ned Offit of Offit Capital Advisors picked up on the reference to disco balls, as did fashion designer Isaac Mizrahi, who said the vibe was "kosher Semitic '70s."
"It's so beautiful and so dreamy," said artist Laurie Simmons, who was honored and has a show at the museum opening in March, which she starts installing Thursday.
Before it's here, it's on the Bloomberg Terminal.
LEARN MORE