Saudi Banks Pull Welcome Mat From Startups Seeking Loans
Deema Almashabi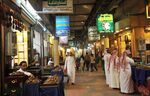 Hasan Al-Hazmi knew he couldn't depend on Saudi Arabian lenders when opening his business last year even with the kingdom's drive to boost credit to small- and medium-sized companies.
"Banks are not lending to any startups without providing annual financial statements audited by licensed entities in Saudi Arabia," said Al-Hazmi, co-founder of Riyadh-based Supply & Logistics Solutions that started operations last year providing storage and cargo services. "How would I be able to provide a bank with statements if I just started?"
Lending under the nation's SME Loan Guarantee Program, also known as Kafalah, plunged 76 percent to 572 million riyals ($153 million) last year as banks tightened rules, according to data from the Saudi Industrial Development Fund. That compares with a 12 percent increase for total bank credit last year to 1.25 trillion riyals, according to Saudi central bank data.
"Banks in Saudi Arabia find it challenging servicing the SME market," Yahya Alyahya, chief executive officer of Bahrain-based Gulf International Bank, which is majority owned by Public Investment Fund of Saudi Arabia, said in an e-mail on Feb. 24. "SMEs tend not to have reliable financial information, specifically audited financial accounts."
SME Contribution
The difficulties in obtaining credit may be an obstacle in the country's efforts to create jobs and diversify the economy away from oil, which brings about 90 percent of government revenue. The kingdom, the world's biggest crude exporter, is investing $500 billion on industry, transportation and housing, a program the government expanded after watching revolts sweep across other high-unemployment Arab countries three years ago.
Saudi Arabia's unemployment rate was 11.7 percent last year, according to the Central Department of Statistics & Information. Employment growth for Saudi citizens was 4.6 percent between 2010 and 2012 compared with 8.5 percent for all jobs created in the kingdom, according to data on the International Monetary Fund's website.
Small- and mid-sized enterprises' contribution to Saudi Arabia's gross domestic product was 33 percent last year compared with 64 percent in Japan, 57 percent in Spain and 50 percent in the U.S., data from World Bank's International Finance Corp.
"Lower lending to SMEs will have a medium- to long-term effect on job creation but the effect isn't immediate as jobs are also being created for Saudis outside the Kafalah program," John Sfakianakis, head of Middle East at Ashmore Group Plc, said in an e-mail on Feb. 24. "Banks could be lending less due to a temporary shift as it's a buyers market, with more competition and yield compression."
The three-month Saudi interbank offered rate, the benchmark used by banks to price loans, has tumbled 16 basis points since the end of 2013 to 0.79 percent today, according to data compiled by Bloomberg. That's the lowest on a closing basis since January 2012.
Audit Hurdle
Saudi banks tightened lending criteria after two family-owned businesses defaulted on at least $15.7 billion of loans in 2009 and the global credit crisis hurt the economy. Growth slowed to 1.8 percent in 2009 from 8.4 percent the previous year, according to data compiled by Bloomberg. The economy grew 4.6 percent last year.
The number of loans from National Commercial Bank, the kingdom's biggest lender to SMEs through the Kafalah program fell to 232 last year from 1,048 the previous year. Saudi British Bank and Banque Saudi Fransi approved only two loans each.
"I was told by a bank to come back after a year with audited financial statements for a loan," Al-Hazmi of Supply & Logistics Solutions said. "Unfortunately, my business is less than a year old and I can't provide a bank with an annual financial statement even if I could afford it."
Before it's here, it's on the Bloomberg Terminal.
LEARN MORE