Samsung's Galaxy S6 Isn't About the Phone, It's About the Chips
Jungah Lee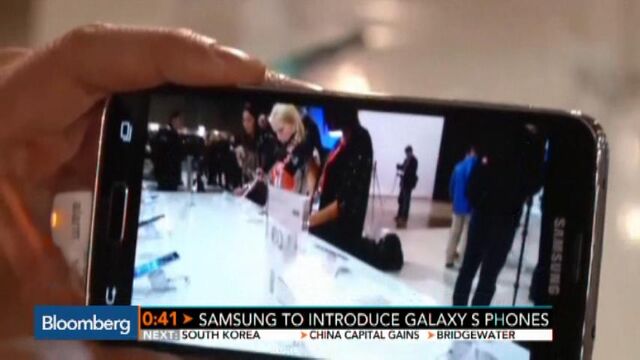 – Samsung Electronics Co. will unveil its next smartphones this weekend, with the focus on whether they can draw customers from Apple Inc. The real question may be whether the phones can pull customers from Qualcomm Inc. and Sharp Corp.
The Galaxy S devices are aimed at demonstrating Samsung can make top-tier chips and screens, as well as smartphones. The company is using its own application processor chips in the phones, replacing those from Qualcomm, and its own multisided screen, something no rival can produce. The goal is to create customers for those products, even if it loses ground in phones.
Samsung is at risk of losing its leadership in smartphones after four years atop the industry. The company fell into a tie with Apple in the fourth quarter, and earnings have dropped for three straight quarters. Samsung is pouring more than $21 billion into capital expenditures this year to grab a bigger slice of revenue from the 1 billion handsets sold by rivals.
"It's a great chance to lure more customers," said Tom Kang, research director at Counterpoint Technology Market Research Ltd. "If the S6 sells well, many handset rivals will adopt a 'me, too' strategy with Samsung's new chips and curved displays."
Shares of Samsung fell 1.3 percent to 1,357,000 won in Seoul today, paring this year's gain to 2.3 percent.
Asia's biggest electronics company wants more of the combined $51 billion in revenue generated by sales of application processors and screens for mobile phones. Qualcomm captured more than half of the $21 billion processor market last year, according to Strategy Analytics.
Qualcomm, Apple
Samsung plans to release two versions of its new high-end smartphone on Sunday during Mobile World Congress in Barcelona, with one model featuring a display on three sides, people with direct knowledge of the matter have said.
Both phones will have all-metal bodies and use Samsung's applications processors instead of Qualcomm's Snapdragon, the people said. Analysts expect the devices to use the S6 name.
The company also hints at new ways to charge the phone without cords. Seho Park, principal engineer at Samsung's mobile unit, predicted "users will be able to enter a new wireless world like never before" with future Galaxy models.
New features are key for helping Samsung stand out in a mobile market where Apple earns the biggest profit and dozens of companies, including Xiaomi Corp., use Google Inc.'s Android software to produce seemingly interchangeable phones.
Another Android
Revenue from the iPhone and iPad totaled $60.2 billion in the quarter ending Dec. 27, while revenue from Samsung's mobile division, including tablet computers, was $22.9 billion in the quarter ending Sept. 30, according to data compiled by Bloomberg.
"Samsung has fallen into a 'one of the Androids' category and it's getting harder to get people to open up their wallets," said Yoo Eui Hyung, an analyst with Dongbu Securities Co. in Seoul. "The performance of S6 will be the key selling point for Samsung's mobile components."
Samsung's ascent to the top of the global smartphone industry in 2011 drove record earnings, yet the 40-year-old division making logic and memory chips is now the biggest contributor to profit. That includes semiconductors made for its own phones and those by Apple and Sony Corp.
Operating profit at the chip division surged 36 percent to 2.7 trillion won in the fourth quarter, while mobile-phone unit earnings slumped 64 percent to 1.96 trillion won.
Faster Processors
Samsung's strategy is to offer the best user experience to customers with top tier components, no matter where they are sourced from, the company said in an e-mail, declining to comment on its new phones.
Emily Kilpatrick, a spokeswoman for San Diego-based Qualcomm, declined to comment.
Vice Chairman Lee Jae Yong is spending about $14 billion on a factory for chips near Seoul and counting on rising demand to justify that investment. Samsung said Feb. 16 it will begin mass producing processors with circuitry making them faster, more energy-efficient and more productive than those from Qualcomm.
Samsung's processor business may post an operating profit of as much as 1.4 trillion won this year after losing 700 billion won last year, Yoo said.
"Qualcomm historically has had the best-of-breed chips in the market," said Bill Kreher, an analyst at Edward Jones & Co. who has the equivalent of a hold rating on Qualcomm shares. "This is a first sign that there may be cracks in that theory."
Competitor, Customer
Samsung last year earmarked 23.4 trillion won for capital expenditures, including 4 trillion won for displays, and that total is expected to increase this year.
"It's the right time for Samsung to tap new external customers and reduce its reliance on its Galaxy phone sales," said Lee Min Hee, a Seoul-based analyst at I'M Securities Co. "If the next Galaxy is proven to be a big success, Chinese makers will quickly jump in to make similar products."
Part of the challenge for Samsung, as with Apple in smartphones, is that Qualcomm also is a customer and supplier. Samsung is a contract manufacturer for Snapdragon chips and also buys them for its devices.
The South Korean company is Qualcomm's second-largest customer and generates about 12 percent of its sales, according to data compiled by Bloomberg.
"Qualcomm is trapped in a dilemma," Yoo said. "It's a golden chance for Samsung to overturn the whole semiconductor industry landscape with the S6."
Bendable Display
Releasing a smartphone with a three-sided screen may lure more customers to Samsung's display unit, which dominates the market for ultra-thin, organic light-emitting diode technology in mobile devices. Customers now buying Samsung's OLED screens include Nokia Oyj, Motorola Mobility Holdings and Huawei Technologies Co.
Apple's screen suppliers include Sharp, LG Display Co. and Japan Display Inc.
Samsung was the first company to use a phone screen with more than one side when the Galaxy Note Edge debuted last year. The 5.6-inch display stretches down the right side so users can read messages and news from an angle. Samsung currently doesn't sell that component to other companies.
"The message Samsung will try to deliver with the new Galaxy isn't quite direct to Apple, but rather pointing at Qualcomm and Xiaomi," Ko Jung Woo, a Seoul-based analyst at BS Securities Co., said. "The S6 can rather be the new gauge setting the next component technology trend."