RBS to Cut More Than 1,000 Jobs at U.S. Trading Unit, CFO Says
Richard Partington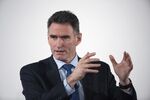 Royal Bank of Scotland Group Plc plans to eliminate more than 1,000 jobs at its U.S. trading division as part of a global overhaul of the investment bank, Chief Financial Officer Ewen Stevenson said.
Stevenson told reporters on Thursday that the bank plans to cut more than half the jobs at the unit, employing about 2,000 people, with most of the operations in Stamford, Connecticut. The job losses are part of a wider plan for the investment bank to focus on 13 countries instead of 38.
"We will end up with a much smaller broker dealer in the U.S. than what we've currently got," Stevenson, 48, said. "We've got a big headquarters in Stamford that's probably bigger than we need, so we'll look at that in due course."
RBS Chief Executive Officer Ross McEwan, 57, is taking an ax to what was once one of the world's biggest banks, stepping up cost cuts introduced under his predecessor Stephen Hester.
The restructuring will spark "significant" job cuts at the investment bank, McEwan said without elaborating because the lender plans to discuss the number of departures with employees first. The Corporate and Institutional Bank, housing most of the lender's securities activities, currently employs between 16,000 and 18,000 staff, he added.
As part of the global retreat, RBS said on Thursday it sold $36.5 billion of North American loans to Japan's Mizuho Financial Group Inc. for about $3 billion.
Before it's here, it's on the Bloomberg Terminal.
LEARN MORE