Petrobras Seeks Funds as BofA Sees Need for Asset Sales
Peter Millard and Sabrina Valle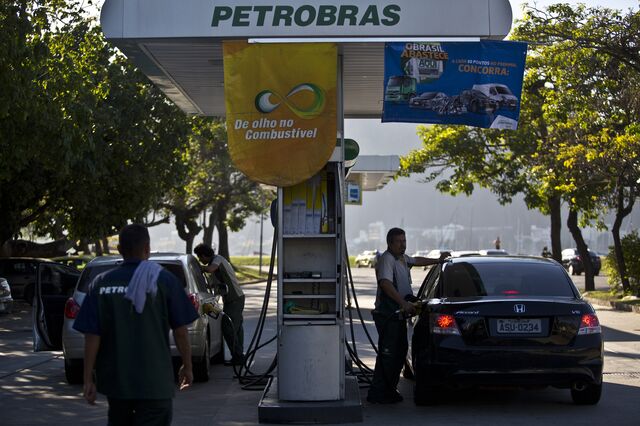 Petroleo Brasileiro SA, the world's most-indebted publicly traded oil company, said it's exploring financing options and studying cost cuts following a downgrade to junk by Moody's Investors Service.
Petrobras, as Brazil's state-run oil producer is known, plans to release audited results "as soon as possible" and is taking steps to preserve cash and cut its debt load, according to a statement released late Wednesday in Rio de Janeiro. The company needs to sell at least $20 billion in assets and reduce capital expenditures to about $25 billion this year to improve finances, Bank of America Corp. said in a report.
A corruption scandal engulfing the biggest deepwater producer -- a decade-old story of alleged kickbacks, bribes and inflated construction contracts -- has transfixed the nation and left Brazilian President Dilma Rousseff struggling to contain the damage. Petrobras's failure to assess the magnitude of losses from the scandal has rendered it unable to produce third-quarter results, causing delays that if prolonged could lead to a bond default, Moody's said Feb. 24 when it announced the cut.
"Petrobras needs to open up," Chris Kettenmann, chief energy strategist at Macro Risk Advisors, said in a telephone interview from New York. "They own 100 percent in a lot of these offshore fields. They have the opportunity to attract offshore partners in the Campos and Santos basins."
International oil majors "would jump at the opportunity," he added.
'Important Sums'
The potential to raise "important sums" from exploration and production assets should improve if oil prices recover in 2016, Bank of America analysts led by Frank McGann said in the report. The company can also sell pipelines, storage facilities and electricity plants to raise money, the analysts said.
By selling assets including some of the recently discovered oil fields in Brazil, Petrobras would be able to generate $20 billion, said Danilo Onorino, a portfolio manager at Dogma Capital SA.
"Given the lack of new exploration around the world, Petrobras's upstream assets discovered and de-risked are quite appealing for a trade," he said in e-mailed comments from Lugano, Switzerland. "In this way, one of their main problems could be fixed".
Share Sale
The ratings downgrade increases the chances Petrobras will need to sell shares to shore up its finances, UBS Group AG and Banco Itau BBA SA said in research reports released Wednesday.
"This downgrade increases the chances of a dilutive equity issuance," UBS analysts Lilyanna Yang and Carlos Herrera wrote in the report.
Petrobras, which is developing the largest group of offshore discoveries this century, emerged from the recent commodities boom with $135 billion of total debt after missing production targets and subsidizing imported fuel for years.
The company's board will meet Friday to discuss writedowns for costs related to corruption that have prevented it from releasing audited results, said a person with knowledge of the agenda. The newly-earned junk rating puts pressure on new Chief Executive Officer Aldemir Bendine, who took over earlier this month, to resolve the accounting delays and restore access to capital markets.
'Monumental Task'
"The new CEO has a monumental task ahead of him as he oversees another impairment assessment and clears it with auditors," Christopher Garman, head of emerging-markets research at consulting firm Eurasia Group, said in a note on Wednesday.
Petrobras previously announced plans to sell assets totaling about $3 billion for this year. Brazil's government has offered as much as 6 billion reais ($2.1 billion) in loans from state banks to help strengthen the company's cash position, Estado do S. Paulo newspaper reported on Thursday, citing an unidentified Petrobras executive.
The board is seeking to resolve a deadlock with auditor PricewaterhouseCoopers LLP about how to calculate the amount of graft-related costs, said the person, who declined to comment because the information isn't public.
PwC declined to comment in an e-mailed response to Bloomberg. Petrobras didn't reply to messages seeking comment on the meeting or the topics under discussion.
Petrobras fell 1.8 percent to 9.21 reais at 3:37 p.m. in Sao Paulo. The shares have slumped 58 percent in the past six months.
Before it's here, it's on the Bloomberg Terminal.
LEARN MORE