Obama Sends Rice, Power to AIPAC Meeting Amid Netanyahu Flap
Angela Greiling Keane and Justin Sink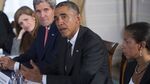 National Security Adviser Susan Rice and Samantha Power, U.S. ambassador to the United Nations, will represent the Obama administration at a pro-Israel lobby group's annual conference where Israeli Prime Minister Benjamin Netanyahu also is speaking.
Netanyahu is scheduled to address the American Israel Public Affairs Committee on Monday, a day before he's delivering a speech to a joint meeting of Congress that has become a new flashpoint in already contentious relations between the Israeli leader and U.S. President Barack Obama.
Both Rice and Power will deliver remarks to the group, AIPAC spokesman Marshall Wittmann said in an e-mail Thursday. The organization expects more than half of the Senate and two thirds of the House of Representatives to be in attendance over the course of the three-day conference in Washington, he said.
The two administration officials will serve as a counter-point to Netanyahu, who has warned that a deal being negotiated by the U.S. and other world powers with Iran on its nuclear program is dangerous. His acceptance of House Speaker John Boehner's invitation to address Congress without consulting the White House has been called a breach of protocol by the administration and escalated tensions between the two allies.
No Meeting
Obama has ruled out meeting with Netanyahu while he's in Washington, saying it comes too close to Israel's March 17 elections. Rice, in an interview with Charlie Rose on PBS and Bloomberg Television this week, said Netanyahu's acceptance of Boehner's invitation injected partisanship into the U.S.-Israel relationship "which is not only unfortunate, I think it's destructive of the fabric of the relationship."
More than a dozen members of Congress have verified they are not going to the speech, while others have been calling for a postponement and are still deciding. Boehner, an Ohio Republican, said most members plan to be in the chamber for the speech and rejected Rice's characterization.
"What is destructive is making a bad deal that paves the way for a nuclear Iran," he said Thursday at his weekly news conference.
White House press secretary Josh Earnest said he expected Rice and Power will talk "at least a little bit" about how diplomatic efforts to stop Iran from gaining a nuclear weapon serve the security interests of the U.S. and Israel.
Security Interests
"We are hopeful that we can get back to a place where the national security of the United States, most importantly, but also the national security of Israel can be enhanced," he said.
Earnest said their appearance at AIPAC is consistent with past instances of senior officials addressing the group. "If it's perceived by some as an effort to demonstrate bipartisan support" between the U.S. and Israel, then "that would be great," he said.
The rift between Netanyahu and Obama hasn't slowed down security and economic cooperation. Rice met last week with Netanyahu's National Security Adviser Yossi Cohen to discuss Iran and other issues. Those talks went ahead even as administration officials said the U.S. is withholding details about the Iran negotiations because Israeli officials have leaked misleading information to undermine a deal.
The issue will be brought to a head in March. Along with the Netanyahu speech and the Israeli elections, negotiations with Iran face an end-of-month deadline for reaching a framework political deal on the Islamic republic's nuclear program.