politics
Mike Lee: 'Unserious Presidential Candidates' Are 'Not the Media's Fault'
The Utah senator says conservatives could only blame themselves if Republicans ended up with a candidate who spoke in platitudes.
By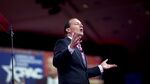 Conservatives dismayed by "unserious presidential candidates" must look to themselves, rather than blaming the media, according to Utah Senator Mike Lee.
"It's not the media's fault," he said Thursday morning at the annual Conservative Political Action Conference. "It's not the establishment's fault. It's our fault. And we can't let that happen."
Lee began his speech, the second of the conference, by asserting that he is "not running for president" speech, before laying out what kind of candidate the activists should begin looking for during the four-day conference just outside Washington, D.C.
"Principled, positive and proven," he said.
That ruled out a candidate who used the word "but" too much in conversation (as in, "I'm personally pro-life, but..."), one who speaks in "generalizations and abstractions" or platitudes, and someone who had not "proven himself by winning big, difficult fights on election days and... won big, difficult fights after election days, while they're in office."
Lee acknowledged the role that the conference and conservative activists would play in the coming presidential race, and charged attendees not to take the responsibility lightly.
"Our job is not just to find the guy who can yell 'freedom' the loudest," he said. "Republican presidential candidates in 2016 will only be as good as voters demand that they be in 2015. That's why we're here today."
He also charged them not to ignore moderates. "The conservative candidate who ignores moderates is as misguided as the moderate candidate who ignores conservatives," he said. "The candidate we both want can attract both without alienating either."
Before it's here, it's on the Bloomberg Terminal.
LEARN MORE