Lesotho Holds Vote Six Months After Leader Fled Coup Attempt
Mathabiso Ralengau and Amogelang Mbatha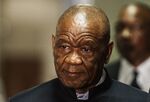 Lesotho holds elections on Saturday in a bid to end a political crisis that saw Prime Minister Thomas Thabane flee the southern African country in August as the army attempted to seize power.
Thabane, leader of the ruling All Basotho Convention, and Pakalitha Mosisili from the main opposition Democratic Congress are the main contenders in an election that will feature 1,106 candidates from 23 parties, including 24 independents. More than 1.22 million voters have registered, the Independent Electoral Commission said on Jan. 28.
The mountainous kingdom, which has a population of about two million, earns foreign exchange from tourism and exports of mohair and is entirely surrounded by South Africa, whose mines it provides with labor. It supplies water to South Africa's industrial hub of Gauteng, the province that includes Johannesburg and Pretoria.
Lesotho's political turmoil has hobbled the government's ability to address poverty, according to Dimpho Motsamai, a southern Africa analyst at the Pretoria-based Institute for Security Studies.
"The governing parties have been focusing more on power struggles than on policy and policy effectiveness," Motsamai said by phone on Feb. 25. "This is a high-stakes election for all the political parties because of the narrow economic base, so their livelihood would be secured if they are in the civil service."
Previous Coups
Lesotho's government employee wage bill was about 20 percent of gross domestic product from 2009 to 2014, the highest of 44 sub-Saharan countries, according to the International Monetary Fund.
A former British protectorate that won its independence in 1966, Lesotho suffered a military coup in 1986 when South Africa's apartheid government backed an army takeover. A counter-coup in 1991 allowed for elections to take place two years later.
Thabane in June announced the suspension of Parliament until February, a move opposed by coalition partner, the Lesotho Congress for Democracy. Friction within the country boiled over on Aug. 30, when Thabane fled to South Africa, saying the army had tried to oust him. The military raided police stations, disarmed officers and closed radio stations.
Ramaphosa Facilitates
The Southern African Development Community brokered an agreement that allowed King Letsie III to reopen Parliament and cleared the way for the early elections. The countries have an observer mission in Lesotho that includes police and troops that will remain until March 31.
"We express our confidence that all conditions for the holding of free and fair elections have been met -- that elections will be held under peaceful condition," South African Deputy President Cyril Ramaphosa, who acted as SADC facilitator, said in a statement on Friday. Ramaphosa will spend Saturday and Sunday in Lesotho.
Many residents are hoping that a stable outcome from the election will help the country's economy.
"I think the coalition government was on the right track, but the problem started when the power struggle erupted," Maleuta Leuta, 52, an unemployed mother of three, said in an interview in the capital, Maseru, on Feb. 24. "Elections will pave a way for the new government to create more jobs for the citizens."
Before it's here, it's on the Bloomberg Terminal.
LEARN MORE