Invesco's Cronin Has SEC Playing Catch-Up on Safe Trading
Sam Mamudi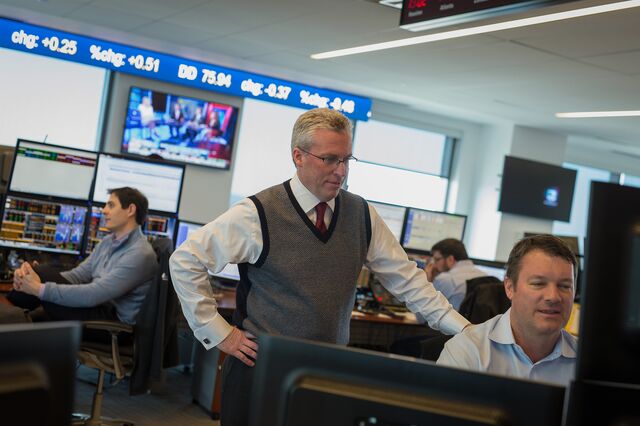 Kevin Cronin, global head of trading at Invesco Ltd., wasn't going to wait for the U.S. Securities and Exchange Commission to protect his customers.
In a world of robotic trading and dark pools, where stock buyers can have no idea where their orders go or how much in fees their broker might be paying or receiving, Cronin has assembled a team of equities detectives over the last few years to make sure his clients get fair deals. The number of times trading platforms have subsequently been temporarily blocked from handling Invesco orders "gets into the double-digits," Cronin said.
"We can argue that it's a shame that it has to come to this," he said. "But on the other hand, where there's complication there's opportunity."
It's vindication for Cronin that in January the SEC named him to its Equity Market Structure Advisory Committee, a panel that will help the regulator determine rule changes for how shares trade. The same month, he helped create the industry's only dark pool owned by and run exclusively for fund managers.
The panel was formed after a challenging year for electronic stock trading, with investigations by the SEC, New York state attorney general and U.S. Department of Justice, the publication of Michael Lewis's "Flash Boys" -- a book that portrayed a rigged market -- and multiple fines and settlements against Wall Street players, including two in January that together totaled almost $30 million.
Cronin, whose firm manages $800 billion, has been questioning the fairness of high-frequency strategies, the conflicts inherent in stock exchange fees and the lack of transparency in dark pools, the private trading platforms run by broker-dealers, since at least the late 2000s. His goal is to make trading fair and to ensure the best outcomes for Invesco's fund managers and, by extension, its clients.
Dark Pool
"Kevin has been a thoughtful and constructive participant in the market structure debate for many years," Larry Leibowitz, chief operating officer of New York Stock Exchange parent NYSE Euronext until November 2013, said by e-mail. "Unlike many other voices, he recognizes the nuance and complexity of the issues."
Last month, nine fund companies including Invesco unveiled the Luminex dark pool, aimed at letting asset managers trade large stock orders with each other at low cost. While Fidelity Investments began the discussions, Cronin, who will sit on the venue's board, said all the firms involved "pushed very hard to make sure Luminex came to fruition."
Secret Methods
The reason, he said, is that many dark pools, with their secret methods, order types and participants, aren't doing the job. Luminex will provide complete transparency, Cronin said.
Even as he and his mutual-fund peers take their own steps, the stock market's regulator has been staking out how it wants trading to improve. Many of the priorities SEC Chair Mary Jo White presented in a June speech at an industry conference address complaints that Atlanta-based Cronin, 49, has been making for years.
White said that she wanted more transparency for dark pools, registration requirements for closely held high-frequency trading firms, and more information about the order types that stock venues offer customers.
Since White's speech, the SEC has brought several high-profile enforcement actions for market-structure abuses, including against the Direct Edge stock markets in what was a record fine for a stock exchange, the biggest penalty levied against a dark pool in a case featuring UBS Group AG and the agency's first enforcement against a high-frequency trader, Athena Capital Research LLC.
Speed's Benefits
Though Cronin has criticized many aspects of how the market operates, he also sees the benefits that come from today's ultra-fast computerized landscape, especially in buying and selling large company stocks.
"There's no doubt in my mind that, whether it's an institution trading or a retail person trading a share of GE or Intel, it's a much more efficient way for them to interact in the marketplace," he said.
Being aware of the benefits doesn't translate to absolute trust. Cronin said the four-person team he's built to safeguard Invesco clients examines how trades are routed across markets, analyzes transaction costs and develops algorithmic trading strategies. Two of the newest team members were hired away from a high-frequency trading firm and a large Wall Street broker, he said.
Cronin wouldn't give details of how the team makes its calculations. He said he's confident it's up to the job of figuring out if the firm is getting a fair shake from the market.
"We've put together what I think is a very scientific process to help us make those determinations," he said.
Before it's here, it's on the Bloomberg Terminal.
LEARN MORE