Heathrow Lured to Draghi's Euro as Pound Bond Sales Slip
John Glover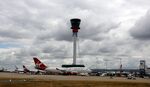 Bond sales in pounds are seeing their slowest start to a year since 2010 as companies including the owner of Heathrow Airport instead borrow in euros at the cheapest rates on record.
Non-financial companies including energy supplier SSE Plc sold the equivalent of about 4.3 billion pounds ($6.6 billion) in 2015, about half the amount issued in the first two months of 2014 and the least since the 3 billion pounds sold five years ago, data compiled by Bloomberg show. Sales in euros by U.K.- based companies are at their highest in 14 years.
"If you're a company that can issue in euros then you probably should do," said Bryn Jones, a London-based fund manager at Rathbone Brothers Plc, which oversees the equivalent of about $32 billion. "Yields are lower, spreads are tighter and the market is deeper than in the U.K. It's no wonder that U.K. companies are looking abroad."
Average yields on investment-grade corporate bonds in euros have fallen to a record 0.89 percent, compared with 2.94 percent in pounds, according to Bank of America Merrill Lynch index data. The yield premium investors demand to hold corporate bonds in the 19-nation currency rather than similar-maturity government debt is 91 basis points, compared with 131 basis points for sterling.
ECB Program
Yields are tumbling as European Central Bank President Mario Draghi prepares to begin buying 60 billion euros ($68 billion) of assets a month in an effort to revive growth and inflation in the euro region.
Five-year German bonds, a benchmark for corporate borrowing in euros, yield a negative 0.10 percent, compared with 1.12 percent for U.K. government debt of the same maturity. Negative yields mean investors pay more than the face value of a bond plus interest payments, leading to a loss if they hold the security to maturity.
U.K.-based non-financial issuers have sold about 7.7 billion euros of bonds in the first two months of this year, the most since 2001. The tally excludes banks and insurers and only considers deals of 100 million euros or more.
Among them is Heathrow Airport Holdings Ltd., which on Feb. 3 issued 750 million euros of 1.5 percent bonds maturing in February 2030. The notes, which were priced to yield about 1.58 percent, are now at 1.61 percent, according to Bloomberg data.
Yield Search
The search for yield has led European investors to consider longer maturities, giving issuers looking for long-term funding an alternative to the sterling market. At the same time, a shakeup of the U.K. pensions industry has reduced demand for the long-term sterling assets used to back payments to retirees.
"The annuity change has completely reshaped the long end in sterling," said Frazer Ross, a managing director of the corporate debt syndicate at Deutsche Bank AG in London. "At the same time, the euro market is scrambling for duration. Europe is filling the void that used to be covered by sterling."
Wellcome Trust Ltd., which has issued 1.25 billion pounds in three bonds since 2006, in January turned to Europe to raise 400 million euros of debt maturing in 2027. Chief Investment Officer Daniel Truell didn't immediately return a call seeking comment.
"If you're looking to minimize the cost and maximize the size, then the euro market is the place to go," said Adam Bothamley, who heads the Europe, Middle East and Africa debt syndicate at HSBC Holdings Plc in London. "We've seen growing demand for longer-dated trades in euros, too. It's no longer necessary for investment-grade issuers to go to the sterling market if they want to raise debt for longer than 10 or 20 years."
Before it's here, it's on the Bloomberg Terminal.
LEARN MORE