German Unemployment Falls More Than Forecast in February
Stefan Riecher and Alessandro Speciale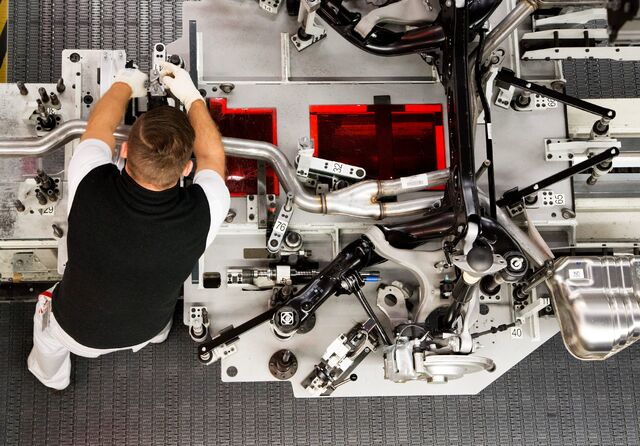 German unemployment dropped twice as much as forecast in February after the country returned to its position as Europe's economic powerhouse.
The number of people out of work declined a seasonally adjusted 20,000 to 2.81 million, the Federal Labor Agency in Nuremberg said on Thursday. Economists predicted a drop of 10,000, according to the median of 27 estimates in a Bloomberg News survey. The adjusted jobless rate remained at 6.5 percent, the lowest level in records going back more than two decades.
Germany's economic growth accelerated in the fourth quarter, led by domestic spending and exports, and the Bundesbank said last month that higher wages are bolstering consumption. Plunging energy costs, while contributing to a negative inflation rate in Germany and the euro area, are also providing stimulus.
"The German economy is doing really well and I don't think this will change anytime soon," said Johannes Gareis, an economist at Natixis in Frankfurt. "The labor market is very solid and unemployment should remain very low for all of 2015."
The number of people without work dropped by 11,000 in western Germany and 8,000 in the eastern part of the country, the labor-agency report showed.
The German DAX Index was little changed after the report after closing at a record high on Wednesday. The euro fell 0.1 percent against the dollar and traded at $1.1350 at 10:23 a.m. in Frankfurt.
Order Level
"The demand for labor has risen again," Frank-Juergen Weise, president of Germany's Federal Labor Agency, said at a press conference in Nuremberg. "We are optimistic about the labor market, as companies and businesses will expand activity and maintain a good level of orders."
The jobless rate in the euro area was 11.4 percent in December, according to Eurostat, the European Union's statistics office. Figures for January will be published on March 2. The currency bloc's economy expanded 0.3 percent in the October-December period.
Before it's here, it's on the Bloomberg Terminal.
LEARN MORE