From Metallica to Kelly Clarkson: The Sounds of CPAC
Here's the playlist from the first day of CPAC 2015.
By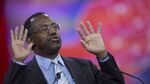 Nothing energizes a crowd and sets the right mood like the perfect walkup music. This year's Conservative Political Action Conference featured some classic conservative selections (i.e. country music) and a few surprises.