Corker: Sending Kerry to Meet Putin Might Not Be a Good Idea
Senator says the secretary of state "means well" but sometimes doesn't prioritize.
By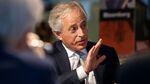 Sending Secretary of State John Kerry to Moscow to meet with Vladimir Putin wouldn't be an effective carrot with which to ply the Russian president, according to the Senate's Foreign Relations chairman.
In fact, Bob Corker thinks it might be more like a hot fudge sundae with a cherry on top.
"I don't know, is that a carrot or dessert?," Corker quipped when asked about reports that the administration was considering sending Kerry to Moscow to talk with Putin.
At a Bloomberg breakfast, the Tennessee Republican broadly criticized President Barack Obama's foreign policy approach, in Russia and elsewhere.
Corker said he thinks Kerry–a former Massachusetts senator and the Democrats' 2004 presidential nominee–"means well," though he "sometimes sees the world as he wishes it to be and not as it is."
 "I think that makes it difficult. I think sometimes John doesn't prioritize and focus on the things that are truly accomplishable and important at the time, and instead tries to deal with all of those, because I know he views himself as having a short amount of time," Corker said.
Still, "there's probably been very few people who've tried to take on as many tough issues at once as he has, and we should thank him for that," Corker said.