Christie Emerges as Bush Basher of the Right
The New Jersey governor tells CPAC voters he's an everyman alternative to Jeb Bush, who is the candidate for DC "elites" making "backroom deals."
By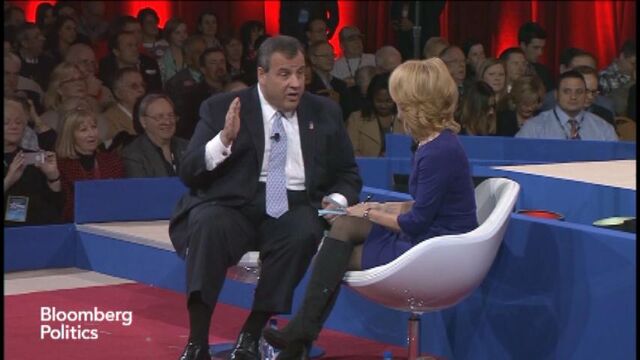 Pointedly criticizing his chief rival, Jeb Bush, New Jersey Governor Chris Christie portrayed himself as a Washington outsider who won't buckle to criticism from the media, and as a man who is unafraid to say what he thinks is right. 
Bush is "definitely the frontrunner" if "the elites in Washington" who make "backroom deals" decide the nomination, Christie told the Conservative Political Action Conference Thursday in National Harbor, Md. "If the people of the United States decide to pick the next president of the United States and they want someone who looks at them in the eye, connects with them and is one of them, I'll do OK," Christie added. 
Christie's remarks came during an on-stage question-and-answer session with radio host Laura Ingraham, who had previously suggested Christie was liberal enough he might become a Democrat. On Thursday, Ingraham asked him bluntly to respond to his political vulnerabilities: low standing among prospective Republican presidential candidates, a reputation for being temperamental, and generally "a rough couple of months for you in the media." 
"I'm still standing," Christie said. "I don't care what they write about me in the New York Times." He said if he decides to run for president he can compete against candidates with more appeal to conservatives, including Scott Walker, because "I just stand on my record. I'm pro-life."
As for criticism he is too temperamental, including his admonition to a heckler criticizing his Hurricane Sandy response last year to "sit down and shut up," Christie did not apologize. "Sometimes, people need to be told to sit down and shut up," he said, and in response to some of the policies of the Obama White House, "someone should say it's time to shut up."
Christie also scoffed at polling showing him in low relative standing to other Republican hopefuls. "Is the election next week?" he asked playfully. Recalling predictions from early in 2007 that Rudy Giuliani would be the Republican nominee, Christie said "I'm not worried" about early polls. "I'll take my chances on me; I've done pretty well so far."
Christie also emphasized his record of holding 128 town hall meetings in New Jersey since he was elected governor, suggesting he was more willing than Bush, the former Florida governor, to take unscreened questions. "Everybody who aspires to high positions of leadership in their state or in their country should be willing to take unscreened, unrehearsed questions from the people who pay their salary," Christie said. Ingraham asked Christie to explain how common core standards in education, an issue Bush has championed, are working in New Jersey. He said he has "implementation regrets," not political regrets about signing on to that. He said New Jersey's approach was "all teed up" by his predecessor in New Jersey, and that he now has several concerns. "It's not only the heavy foot of the federal government," Christie said. "It is not doing what we need to have done in New Jersey. We need to have local control." 
John Holtkamp, 22, of Indianapolis, one of the attendees, said while he's a Rand Paul fan and doesn't agree with all of Christie's policies, Christie's outspokenness appeals to him. "He's not afraid to say what he thinks and defend himself," Holtkamp said. "You've got to rile up the crowd a little here. We need more people who call it like it is."
Christie, reminding the audience he's Catholic, said he tried to give up the New York Times for Lent, but a priest said that wasn't good enough because "you'll have to give up something you'll actually miss."