Chris Christie Is About to Face His Frenemy
Laura Ingraham once said she wouldn't be surprised if Christie became a Democrat.
By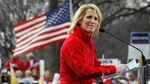 New Jersey Governor Chris Christie will be interviewed by radio host Laura Ingraham on the CPAC stage Thursday, according to his political-action committee—and she hasn't always been his biggest fan.
In 2012, Ingraham was among the conservatives criticizing Christie for his handling of Superstorm Sandy right before Republican nominee Mitt Romney's loss to President Obama.
"It would not surprise me if Chris Christie at some point became a Democrat," she said.
More recently, however, Ingraham has supported the governor. In January, Christie came under fire for saying parents should "have some measure of choice" about their children's vaccinations. Ingraham defended him, as well as Kentucky Senator Rand Paul, on Fox and Friends, saying, "They merely acknowledge that parents do have rights and that parents do have concerns."
Christie's not the only potential candidate who will undergo questioning by a conservative media personality. Bush's inquisitor on Friday will be Fox News host Sean Hannity, according to his political-action committee, and the context couldn't be more different than when Bush appeared on Hannity's show in 2009.
"You never say never, but I don't wake up each day as I know a few other people are waking up [thinking], 'How can I move forward, get closer to my dream of running for president?'" Bush said. "I love my country. I love my state. I'm actively involved in civic and political life, but not as a candidate, and my expectation is that that won't change."