Boehner Mum on DHS Funding Plans While He Blames Democrats
Heidi Przybyla and Billy House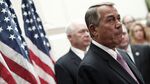 Two days before U.S. Department of Homeland Security funding is set to expire, House Speaker John Boehner blamed Democrats for the impasse and accused them of using blackmail to shield President Barack Obama's immigration policy.
Boehner refused to say how the House may respond to a bill nearing a Senate vote that would finance the agency without blocking Obama's immigration orders as House Republicans demand.
"We're waiting to see what the Senate can or cannot do and then we'll make decisions about how we're going to proceed," said Boehner, a Republican, at a news conference Thursday in Washington.
When pressed by reporters on whether the House would vote on the Senate's funding plan, Boehner paused, puckered up and blew several kisses.
The speaker must decide whether to stick with a group of 30 or 40 conservatives who are goading him to hold up Homeland Security funds to force Obama to reverse his November orders shielding 5 million undocumented immigrants from deportations.
Funding expires after Friday for the agency, and the Senate is moving forward on a plan to finance it after Majority Leader Mitch McConnell heeded calls from Democrats to address Homeland Security funding and immigration in separate bills.
Boehner insisted that Republicans aren't divided over how to proceed.
"It's not a fight amongst Republicans," he said, because party members in both chambers agree they want to block Obama's immigration orders.
'It's Outrageous'
Boehner said, "It's outrageous that Senate Democrats are using Homeland Security funding for blackmail to protect the actions of the president.'
Earlier Thursday, the Senate and House Democratic leaders said they won't negotiate on a spending measure that also blocks U.S. immigration policies.
''If they send over a bill with all the riders in it, they've shut down" the Homeland Security Department, Senate Minority Leader Harry Reid of Nevada said at a news conference in Washington. "If they want to debate immigration when this is all over with, we'll be happy to do it."
"Understand, shutting down government is their motive," said House Minority Leader Nancy Pelosi of California, who spoke to reporters with Reid.
Democrats oppose any legislation to block Obama's immigration orders. If such a measure gets to the president's desk, Obama would veto it.
Under Pressure
Boehner of Ohio has been under pressure from Tea Party-backed Republicans to use the Homeland Security bill as leverage after he promised a battle over immigration this year to his rank and file. Allowing a vote on a bill that funds Homeland Security without addressing immigration might imperil Boehner's standing with those members.
One member of Boehner's Republican caucus who disagrees is Representative Peter King of New York, a member of the Homeland Security Committee.
"If Boehner's going to get it done he ought to bite the bullet and get it done now," King said. "What you're talking about is a small group of people who want to hold the party hostage."
"We have to cut them off now because they'll keep doing this," King said.
Reid said Americans are frightened about terrorism, and noted that just a day earlier three New York residents were charged with trying to support Islamic State, or ISIS.
"ISIS appears to have money, terrorists appear to have money; why shouldn't our homeland have the ability to protect itself?" Reid said.
Short-Term Funding
Pelosi said she told Boehner this week that Democrats wouldn't support passing a short-term Homeland Security funding measure.
"Let's just get the job done on time," she said, and fund the agency through September, the end of the fiscal year.
The risk of a partial Homeland Security shutdown comes less than two months after Republicans took control of both chambers of Congress. McConnell has insisted there will be "no government shutdowns."
Lawmakers also risk embarrassment if the Homeland Security Department is shut down on March 3 when Israeli Prime Minister Benjamin Netanyahu is set to address a joint meeting of Congress on security issues.
The Homeland Security Department includes the Coast Guard, Secret Service, Customs and Border Protection, Transportation Security Administration and the Federal Emergency Management Agency.