Angels' Josh Hamilton Faces Discipline After Hearing With MLB
Erik Matuszewski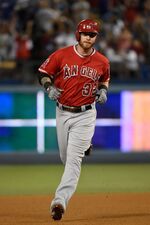 The Los Angeles Angels are waiting to hear from Major League Baseball about possible discipline against Josh Hamilton, whose career has been derailed several times by drug and alcohol abuse.
The Angels said Hamilton, the 2010 American League Most Valuable Player, met with the commissioner's office in New York on Wednesday regarding an undisclosed disciplinary issue.
Hamilton, who is in the third season of a five-year, $125 million contract, had a drug relapse, CBS Sports reported, citing an unidentified person familiar with the situation. Hamilton's father-in-law, Michael Chadwick, was quoted by New York's Newsday as saying the five-time All-Star "hit a bump in the road" and asked people to keep him in their prayers.
The Angels said they're unsure when they'll hear back from the commissioner's office, according to MLB.com. Pat Courtney, a spokesman for MLB, declined to comment and Hamilton's agent, Michael Moye, didn't immediately return messages.
Hamilton, 33, was out of baseball for more than three years early in his career for alcohol and drug abuse. The No. 1 overall pick in the 1999 amateur draft, Hamilton finally broke into the major leagues in 2007 with the requirement that he submit to drug tests three times a week.
Ginger Ale Celebrations
While with the Texas Rangers, Hamilton had relapses in 2009 and 2012 as he was fighting alcohol addiction. He won the 2010 AL MVP award after hitting .359 with 32 home runs and 100 runs batted in, helping the Rangers to the first of back-to-back World Series appearances. Both seasons, the Rangers celebrated their AL championships with ginger ale instead of champagne to support Hamilton's quest for sobriety.
Hamilton hit a career-high 43 homers in his final season in Texas in 2012. He joined the Angels in 2013 and hit a career-low .250 with 21 homers.
Last season, Hamilton was limited to 89 games because of thumb, shoulder and rib cage injuries. He had surgery on Feb. 4 to repair his right shoulder joint and is sidelined for up to two months.
Hamilton has a base salary of $23 million this season.
Before it's here, it's on the Bloomberg Terminal.
LEARN MORE