AB InBev Plans $1 Billion Buyback as Earnings Miss Estimates
Matthew Boyle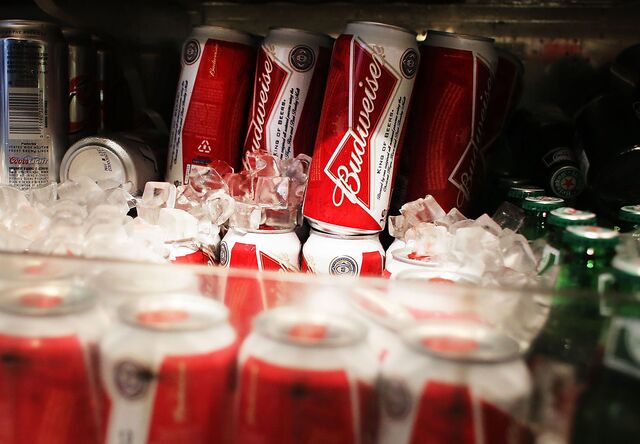 Anheuser-Busch InBev NV plans to buy back $1 billion of shares after fourth-quarter earnings missed estimates as the world's biggest brewer spent more on marketing to counter weak U.S. consumption.
AB InBev will repurchase the shares this year, the Leuven, Belgium-based maker of Budweiser, Brahma and Corona said Thursday in a statement. Earnings before interest, taxes, amortization and depreciation, excluding some items, were $5.07 billion, missing the $5.27 billion median estimate in a Bloomberg survey.
AB InBev said beer industry volume in the U.S., its largest market, will continue to improve this year after halting a decline in the fourth quarter. Beer is increasingly losing market share there to spirits as a 15-year decline has worsened recently, according to Sanford C. Bernstein. In response, the company is introducing flavored beers and ciders to win over consumers who eschew traditional brews.
"Priority No. 1 in the U.S. for 2015 has to be to stabilize Budweiser," Philip Gorham, an analyst at Morningstar Inc., said by e-mail.
AB InBev traded 0.8 percent lower at 109.35 euros as of 9:04 a.m. in Brussels. The shares have gained 43 percent in the past year, compared with a 27 percent advance in SABMiller Plc. Heineken NV has risen 40 percent.
Industry Speculation
AB InBev will continue to look at acquisition opportunities "when and if they arise," Chief Financial Officer Felipe Dutra told reporters on a call.
Speculation has mounted over the past year that the brewer may be interested in buying SABMiller, the maker of Peroni and Pilsner Urquell. The London-based company, which is the world's second-biggest brewer, was rebuffed in an attempt to acquire Dutch beermaker Heineken last year, and the move rekindled talk that some kind of deal may be near.
AB InBev said last year to expect a buyback as it reduced its debt after the 2012 purchase of Mexican brewer Grupo Modelo. Morningstar's Gorham said the buyback won't have much of an impact on the company's acquisition strategy.
"It's not big enough to matter," the analyst said. AB InBev had $8.62 billion in cash, equivalents and short-term investments at the end of 2014, plus $8 billion available under credit facilities.
American Beer
Marketing spending rose 11 percent as the company struggled to turn around Budweiser's sagging performance. The flagship brand's market share in the U.S. declined by 0.3 percentage point in 2014.
Reviving the 139-year-old brand is "not an easy task" and won't happen "in the short term," CFO Dutra said in an interview. Bud Light, its largest U.S. brand, also lost market share, yet total U.S. volumes rose 0.2 percent thanks to gains from the flavored "Rita" beers and Michelob Ultra.
To stem the losses at Bud, the company said marketing investments will rise by as much as 9 percent this year. Analysts expected a 2.9 percent increase, according to Mirabaud's Jonathan Fyfe, who cut his recommendation on the shares to hold from buy today.
The company also proposed a final dividend of 2 euros ($2.27) per share, which would boost the total payout for the year by 46 percent.
Before it's here, it's on the Bloomberg Terminal.
LEARN MORE