Yuan Bond Sales Surge as Swap Demand Lures Kexim
Kyungji Cho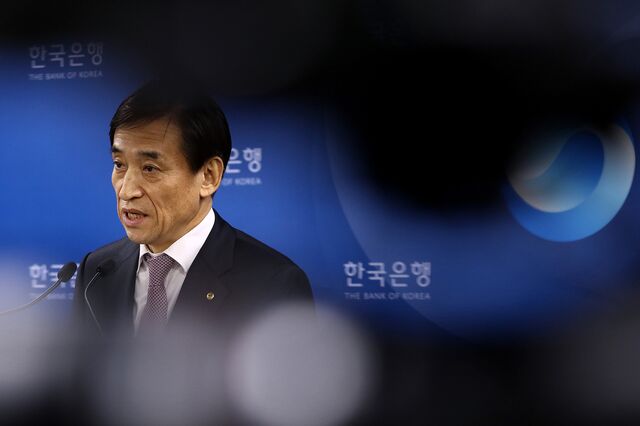 Sales of offshore yuan-denominated bonds by South Korean issuers quadrupled this year as the cost of swapping proceeds into U.S. dollars slumped on a shortage of the currency outside of China.
Korean issuers boosted offerings more than 300 percent from a year earlier to a record 4.5 billion yuan ($712 million), led by Export-Import Bank of Korea. Kexim sold 1 billion yuan of three-year notes at 4.4 percent on Feb. 10 and said that after swapping the funds for dollars the borrowing cost was 52 basis points over the three-month London interbank offered rate.
Demand for yuan in the swap market is enabling investment-grade issuers like Kexim to broaden their investor base while bringing down dollar funding costs. While total offshore renminbi note offerings slumped 62 percent this year as yields jumped, Bloomberg data show, the market remains attractive for issuers that exchange proceeds into dollars.
"It is attractive for many swap-based issuers," Becky Liu, Standard Chartered Plc's Hong Kong-based strategist, said Feb. 23. "We do expect more of these, although not just confined to Korean banks. Historically, we have seen many swapped issuances by Indian banks, Latin American banks and other foreign banks."
The state-owned bank sold $750 million of three-year floating rate U.S. dollar notes at 75 basis point spread in January 2014. South Korean investment-grade issuers paid 84 basis points more than Libor on U.S. currency bonds as of Feb. 24, according to a BofA Merrill Lynch index.
Favorable Rates
The three-year offshore yuan cross-currency swap, which investors pay to obtain yuan cash flows for dollars, rose 125 basis points this year to 4.18 percent on Feb. 16, the highest in at least four years, Bloomberg-compiled data show, reflecting increased demand for renminbi outside of China.
"It's becoming more favorable for issuers to issue offshore yuan bonds and swap it back into U.S. dollars, provided that they still get good pricing," said Frances Cheung, the head of Asia ex-Japan rates strategy at Societe Generale CIB. Investors are finding more ways to take renminbi back into China, which is exacerbating a shortage of liquidity in offshore markets, Cheung said.
Kexim sold 300 million yuan of Dim Sum notes and 700 million yuan of Formosa bonds on Feb. 10. The state-owned bank targeted Taiwan investors amid a decrease in offshore yuan liquidity due to demand for mainland Chinese shares via the Hong Kong-Shanghai Stock Connect system, the lender said by e-mail Feb. 11.
Woori Bank priced 500 million yuan of three-year Formosa bonds yesterday at 4.5 percent, according to Bloomberg data.
Elevated Levels
The offshore yuan swap levels will remain elevated this quarter, said Standard Chartered's Liu. Rates will probably decline in the second quarter, she said.
Korean issuers sold 3.1 billion yuan of bonds abroad last year, 2.3 billion yuan in 2013 and 8.7 billion yuan in 2012, according to data compiled by Bloomberg. Of the 12.9 billion yuan of outstanding yuan bonds, Kexim accounted for 66 percent.
The nation's biggest issuer of international bonds plans to raise about $13 billion from offshore sales in 2015, half of which may be non-U.S. dollar bonds, its director general of international financing Yoon Hee Sung said in December.
The Bank of Korea kept its key interest rate unchanged at a record low 2 percent for a fourth month last week. The yield on three-year government debt fell to an unprecedented 1.94 percent on Feb. 3 and was at 2.08 percent. The won weakened 0.58 percent against the dollar this year to 1,097.36.
"Demand for Korean credit is strong," said Ken Wei Wong, head of Asia ex-Japan bond syndicate at Barclays Plc, which underwrote Export-Import Bank of Korea's Formosa issuance this month. "People are very comfortable with Korea."
Before it's here, it's on the Bloomberg Terminal.
LEARN MORE