Yellen Says Oil Price Means Inflation Will Fall Before It Rises
Christopher Condon and Steve Matthews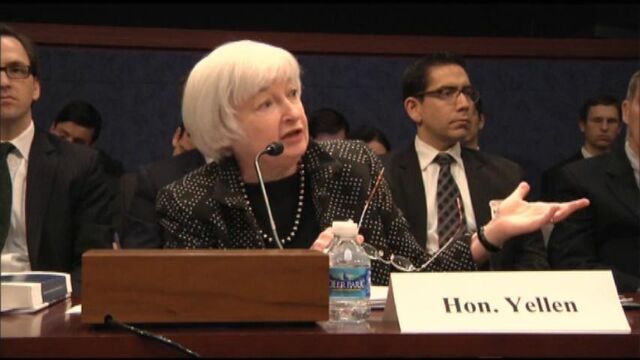 Federal Reserve Chair Janet Yellen told lawmakers the impact of lower oil prices means the U.S. inflation rate will decline before it eventually rises toward the central bank's 2 percent target.
"We think inflation is going to move lower before it moves higher," she said in testimony today before the House Financial Services Committee. "Declining oil prices have had a very major influence."
The Fed chair reiterated that she expects the drag on inflation "will be transitory."
"Especially with an improving labor market we expect inflation in the medium term to move to our 2 percent target," she said.
Yellen said in December she and colleagues will want to be "reasonably confident" that inflation will move back to their target as they begin raising interest rates.
The Fed's preferred gauge of inflation, based on personal consumption expenditures, hasn't touched 2 percent since April 2012, and rose just 0.7 percent in December. A version of the index that strips out volatile food and energy prices was 1.3 percent in December.
Before it's here, it's on the Bloomberg Terminal.
LEARN MORE