Venezuela Riot Center Tense After Killed Student's Funeral
Anatoly Kurmanaev and Andrew Rosati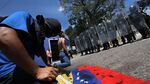 The streets of San Cristobal, the Venezuelan city that sparked riots nationwide last year, were deserted Wednesday after the funeral of a teenager shot by police the day before.
Schools were closed and businesses shuttered in the eastern neighborhoods of the city of 700,000 near the Colombian border. Small groups of youths burned trash in the streets to protest the killing of 14-year-old Kluiverth Roa.
About 100 people gathered at the spot where Roa was shot near the Catholic University of Tachira Wednesday evening for an informal mass. Classes at all colleges and schools in Tachira state have been suspended to minimize the risk of violence, said Joanna Fernandez, a governor's office spokeswoman.
"We're all in shock," said Carlos Humberto, a student leader at San Cristobal's Santiago Marino Polytechnic. "This could be the spark that sets it off again."
Protests erupted in San Cristobal on Feb. 4, 2014, after students demonstrated against the lack of security on campuses. The unrest quickly spread across the country, tapping into discontent with the world's highest inflation, shortages of basic goods and rising crime. Forty-three people died before the government dismantled the last barricades in May.
Caracas Demonstrations
The country's capital, Caracas, saw a number of small demonstrations Wednesday. Dozens of women dressed in white gathered in front of Caracas' Apostolic Nunciature at a rally organized by opposition leader Maria Corina Machado.
"I don't agree with what is happening in my country," said Laura Munoz, 44, a dentist ."As a mother, I'm indignant over how the government is trying cover up the murder of this child, as if it was something dirty and sweep it under the rug.'
National police officer Javier Mora Ortiz was detained on charges including intentional homicide, while nine protesters were arrested after Tuesday's demonstrations in San Cristobal, the public prosecutor said in an e-mailed statement.
Before it's here, it's on the Bloomberg Terminal.
LEARN MORE