U.S. Oil Inventories Surge for Seventh Week
After a jump of 2 percent, they're at an 80-year high
by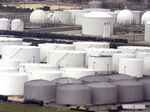 Crude oil in storage in the U.S. jumped 2 percent, to 434 million barrels, according to EIA weekly data released today, Feb. 25. The increase of 8.43 million barrels was more than double the median estimate in a Bloomberg survey of analysts and was the biggest increase in a month.
U.S. oil storage is bursting at the seams amid a global glut of supply that has driven prices down by half since last summer. U.S. inventories remain at their highest levels in at least 80 years, according to an analysis by Bloomberg Intelligence. 
U.S. Oil Inventories Reach 80-Year High
Oil prices fluctuated as the inventory news was tempered by slowing growth in production last week, rising a fraction of a percent to 9.29 million barrels a day, the EIA reported today. Production continues at the highest rate since 1972. 
Winter weather and refinery outages have contributed to the glut of U.S. crude. Even when those conditions subside, high levels of production and vast quantities in storage may continue to suppress oil prices for the near- and medium-term, according to Bloomberg Intelligence. 
Related: 
Before it's here, it's on the Bloomberg Terminal.
LEARN MORE