South Africa's $38 Billion Tab That Won't Come Cheap
Robert Brand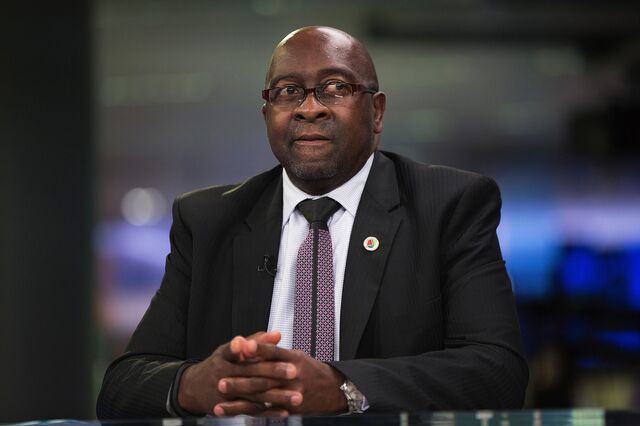 Facing 439 billion rand ($38 billion) of debt payments over the next six years, South Africa is borrowing further into the future at a time when costs look set to rise.
Finance Minister Nhlanhla Nene said Wednesday he's selling three new long-dated bonds, extending the maturity profile of the nation's debt, as the Treasury seeks to spread out future repayments. The plan comes at a cost: while average yields on government securities are down 138 basis points since April, South African 10-year yields remain the fourth highest among 24 emerging markets tracked by Bloomberg, and risk moving higher still as the U.S. prepares to raise interest rates.
"That's going to be very expensive debt," Abri du Plessis, who helps manage the equivalent of about $350 million at Gryphon Asset Management in Cape Town, said by phone. "They're just kicking the problem down the road. Unfortunately, one day we'll have to take the pain."
As interest rates fell amid record stimulus by developed nations during the global financial crisis, South Africa borrowed to spend itself out of its first post-apartheid recession in 2009. Now with the economic recovery slower than the government predicted in October, Nene is being forced to limit government spending and raise taxes as ratings companies weigh the nation's creditworthiness.
Switch Auctions
Yields on benchmark government bonds due December 2026, which fell to a 20-month low on Jan. 29 amid the collapse in crude-oil prices, have climbed 38 basis points in February. The yield dropped five basis points to 7.51 percent by 2:08 p.m. in Johannesburg.
The Treasury will introduce two fixed-rate securities maturing in 2035 and 2040, as well as an inflation-linked bond due in 2033. It will also continue its program of exchanging short-term debt for longer-term notes, known as switch auctions.
Borrowing in the current fiscal year will be 14 percent higher than projected a year ago to help meet redemptions, the Treasury said, and will fall in the next two fiscal years before rising in 2017-18.
The government will find investor demand for the debt, said Michael Grobler, who helps manage the equivalent of about $420 million at Atlantic Asset Management Ltd. in Cape Town.
"Taking into account the overall outlook across emerging markets, the case for investing in South African bonds is quite strong," Grobler said by phone. "There is a fair degree of value out there."
Higher Taxes
Total government debt will climb to 2.3 trillion rand in 2018, or 47.6 percent of gross domestic product, from 1.8 trillion rand in the fiscal year starting in about a month, the Treasury said. Net debt will stabilize at 43.7 percent of GDP in 2018, lower than the 46.3 percent estimated in last year's budget. That's after revisions to the nation's GDP data increased the size of the economy.
Debt redemptions will climb to 56.9 billion rand in fiscal 2017-18 and an average of 88.5 billion rand in the following four years, the Treasury said.
Higher taxes on fuel that were announced in the budget, which would add about 8 percent to the price of gasoline, and an increased levy on electricity usage may negate the effect of lower oil prices on inflation, adding to pressure on bond yields, Du Plessis at Gryphon said. The Treasury estimates the consumer inflation rate will average 4.3 percent this year, more than the central bank's forecast of 3.8 percent.
"They're working against themselves with the fuel and electricity levies," Du Plessis said. "They're basically wiping out the benefit of lower oil prices. That's not good for bonds either."
Before it's here, it's on the Bloomberg Terminal.
LEARN MORE