Target Quarterly Profit Tops Estimates as Holiday Sales Grow
Renee Dudley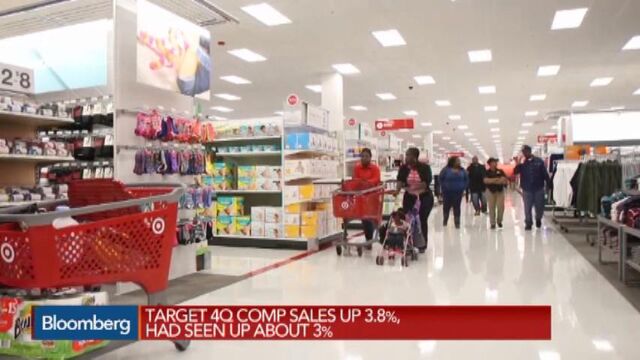 Target Corp., recovering from a hacker attack and its failed expansion into Canada, posted earnings for its fiscal fourth quarter that topped analysts' estimates, lifted by a holiday sales gain.
Though a $5.1 billion writedown of its Canadian operations led to a net loss, Target's operating profit exceeded projections. Same-store sales measuring comparable transactions gained 3.2 percent in the period, which ended Jan. 31, the Minneapolis-based company said Wednesday in a statement.
Chief Executive Officer Brian Cornell is refocusing Target on the U.S. after abandoning its money-losing Canadian operations in January. Cornell, a former PepsiCo Inc. executive who took the reins at Target in August, also is working to regain shoppers' trust following the 2013 data breach.
"Since Cornell came on board, they've put the focus back on apparel, home, baby and wellness, and those are positive," Brian Yarbrough, an analyst at Edward Jones in St. Louis, said in an interview.
"These are the categories that can help differentiate Target from the Wal-Marts and Amazons of the world. It is key that they get back to 'Tarzhay' by selling exciting merchandise that drives traffic to stores," he said, using a common nickname for the retailer. Yarbrough rates the shares a buy.
First Quarter
Despite the optimism, Target's forecast for the first quarter came in below analysts' estimates. Earnings will be 95 cents to $1.05 a share in the period, the company said Wednesday. Analysts had projected $1.06 on average.
The stock gained 0.3 percent to close at $77.15 at the close in New York. Target has gained 1.6 percent this year, trailing the 2.7 percent advance of the Standard & Poor's 500 Index. Wal-Mart Stores Inc. was down 2.7 percent for the period.
Excluding some items, earnings amounted to $1.50 a share in the fourth quarter. That exceeded the company's forecast of as much as $1.47. Analysts had predicted $1.46 on average for the period.
On Aug. 12, Cornell became the first outsider ever to become CEO of Target. Over the past three decades, he's worked for at least six companies, including PepsiCo, Wal-Mart, Michaels Stores Inc. and Safeway Inc.
Leaving Canada
In January, Target announced it was walking away from Canada less than two years after opening stores there. Dismantling operations in the Canadian division, which employed 17,600 people, led to the pretax writedown of $5.1 billion in the fourth quarter, Target said. The Canada unit had amassed more than $2 billion in operating losses since 2011.
Target reported a net loss of $2.64 billion, or $4.10 a share, for the quarter, compared with a profit of $520 million, or 81 cents, a year earlier.
Target is now focused on improving its product assortment, Cornell said in the statement.
"We're pleased with our fourth-quarter financial results, which were driven by better-than-expected sales and particularly strong performance in our signature categories -- style, baby, kids and wellness," he said.
Before it's here, it's on the Bloomberg Terminal.
LEARN MORE