S. Africa Targets Wealthy With First Tax Increase Since 1995
Rene Vollgraaff, Mike Cohen and Robert Brand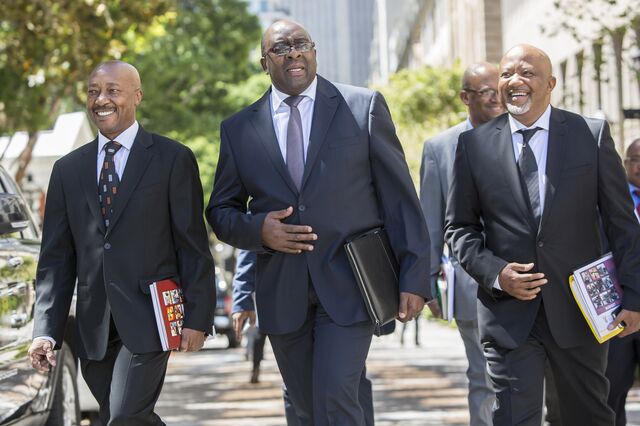 South Africa's government raised income taxes for the first time in two decades as it targeted mainly wealthy individuals to help plug a revenue shortfall.
The tax rate will increase by 1 percentage point for all taxpayers except the lowest earners, Finance Minister Nhlanhla Nene said in his first annual budget speech on Wednesday. That takes the top rate to 41 percent. The richest individuals, who make up 1.1 percent of registered taxpayers, will account for 24 percent of the extra revenue generated.
Nene, 56, stuck to his October pledge to raise taxes and limit state spending to avoid a debt spiral and ward off further credit-rating downgrades. The measures risk derailing a tenuous recovery in consumer demand just as rolling electricity blackouts curb mine and factory output.
"Growth performance remains weak and substantial repayments of debt are becoming due," Nene said. "It is now clear that we can no longer postpone consideration of additional revenue measures."
Wealthy South Africans will also be hit with higher property transfer duties. The tax rate on houses worth more than
2.25 million rand ($196,000) climbs to 11 percent from 8 percent. All consumers will be affected by an increase in fuel levies, which together with other tax proposals will raise an additional 16.8 billion rand.
The ruling African National Congress had progressively lowered income and corporate tax rates since 1998, four years after coming to power. President Jacob Zuma is facing increasing pressure to create more jobs and reduce poverty in a country where almost one in four people are unemployed.
Protecting Consumers
Higher taxes are "going to hit the middle income houses as well as the higher income groups," Kay Walsh, an economist at Deloitte LLP in Cape Town, said by phone. "Households will start to feel the pinch. This may just be the beginning of the sort of tax increases that will be required to fund the investment that is needed in the economy."
The government protected the poor by avoiding raising value-added tax, which hasn't been adjusted from 14 percent since 1993.
"This isn't the right time for VAT, given low growth," Ismail Momoniat, a deputy director general at the National Treasury, said on Wednesday before the budget speech.
South Africa has 15.5 million registered individual taxpayers, of which only 7 million are taxed and the rest exempt because they don't earn enough income. The population is estimated at 54 million.
Weak Growth
Nene, who was deputy finance minister for more than five years before being promoted to the top post in May, lowered his forecast for economic growth this year to 2 percent from 2.5 percent. Gross domestic product expanded 1.5 percent last year, the slowest pace since the 2009 recession, the statistics agency said on Tuesday.
Even with higher taxes, government revenue in the fiscal year beginning April 1 is projected to be lower than forecast in October because of the weak growth environment. As a result, the budget deficit target will widen to 3.9 percent of GDP from 3.6 percent.
The shortfall for the current fiscal year ending March 31 is estimated to reach 3.9 percent of GDP, down from 4.1 percent forecast in October. Nene pledged to cut the deficit to 2.6 percent in 2016-17 and 2.5 percent the year after that.
Power Crunch
With debt levels approaching 48 percent of GDP, the government has limited scope to increase spending without avoiding further credit-rating cuts following two downgrades last year. Standard & Poor's rates South African debt at one level above junk.
The rand fell 0.1 percent to 11.4876 against the dollar as of 5:20 p.m. in Johannesburg after earlier strengthening to
11.4328 when the budget was released. The yield on the benchmark bond maturing in December 2026 fell three basis points to 7.58 percent.
"He may have done enough to keep the rating companies satisfied," George Herman, head of South African investments at Cape Town-based Citadel Investment Services, said by phone. "He did everything they expected of him, so that shows fiscal discipline."
Higher fuel duties and a temporary increase in the electricity levy will cancel the benefit to consumers from lower oil prices, said Kevin Lings, an economist at Stanlib Asset Management in Johannesburg. Gasoline prices have dropped 28 percent since the beginning of August, helping to curb inflation.
"The timing of the budget from his point of view is fortunate because he is clawing back some of the petrol price reduction," Lings said by phone. "The worry with this type of move is if the oil price goes back to where it was, this will be very damaging for the consumer."
Before it's here, it's on the Bloomberg Terminal.
LEARN MORE