Secret Service Said to Plan Tests to Counter Drones in Capital
Del Quentin Wilber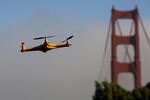 The U.S. Secret Service will conduct tests over the next several weeks to learn how to counter potential threats from remote-controlled drones, according to a law enforcement official.
The exercises come just weeks after a radio-controlled quadracopter being flown recreationally got away from its operator and crashed on the White House lawn.
The security breach highlighted the complications of policing the devices, which are widely available for hobbyists and for commercial uses.
The exercises were in the planning stages well before the incident on Jan. 26, said the official, who requested anonymity because the nature of the exercises are being kept secret.
The service, which is in charge of presidential security, said in a statement Tuesday that it plans "a series of exercises involving unmanned aircraft systems" in the restricted airspace of Washington.
Ed Donovan, a spokesman for the Secret Service, declined to comment beyond the two paragraph news release.
The Federal Aviation Administration earlier this month proposed its first regulations for autonomous flights as drones for hobbyists and businesses have multiplied. For now, the FAA has concluded that commercial drones must be flown within sight of an operator and away from crowds. Congress exempted hobbyists from regulations as long as they abide by guidelines by groups such as the Muncie, Indiana-based Academy of Model Aeronautics.
Last month's drone incident posed no danger to President Barack Obama, who was traveling, or his family, according to the White House.
Before it's here, it's on the Bloomberg Terminal.
LEARN MORE