Protesters Return to Wisconsin Capitol for Scott Walker-Backed Bill
Mark Niquette and John McCormick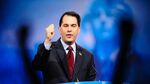 Demonstrators returned to the Wisconsin Capitol for a second day in freezing temperatures to protest a bill that would reduce union revenue and membership and might aid the presidential ambitions of Republican Governor Scott Walker.
The Republican-controlled Senate started debating a right-to-work bill Wednesday to let employees in union workplaces opt out of membership and dues. It passed out of committee Tuesday night in chaotic fashion, with protesters shouting "shame" and police escorting Republican members out. The Assembly, also dominated by the party, is expected to hear the measure next week, and Walker has said he'll sign it.
Demonstrators rallied with snow falling and temperatures at 15 degrees (-9 Celsius). One carried a sign that read, "Walker is addicted to Koch," a reference to the billionaire brothers who are Walker supporters.
"This will end up being one of the darkest chapters in organized labor's history if Wisconsin becomes the 25th state to succumb to the right-to-work-for-less law," Phil Gruber, a leader of the Machinists Union, said at the rally.
There were between 1,800 and 2,000 demonstrators, the same as Tuesday, according to Capitol police estimates. In 2011, as many as 100,000 gathered in a weeks-long standoff over Walker's ultimately successful move to curb bargaining rights for public employees.
Walker, 47, and other Republicans said the new bill is needed to keep Wisconsin competitive with nearby Iowa, Indiana and Michigan, all right-to-work states, by giving workers choice and attracting employers. Labor leaders have criticized it as an attempt to weaken unions, which traditionally have backed Democrats, while hurting safety and wages, they said.
"Having that freedom to choose is an important thing," Walker told reporters last weekend in Washington at a National Governors Association meeting.
Enacting the measure is part of Walker's appeal to the voters he'll need to win the Republican nomination in 2016, said Democratic Senator Fred Risser, 87, the longest-tenured legislator in state history.
"Everything he does is for the national constituency," said Risser, who has served with 12 governors.