North Korea May Get 100 Nuclear Bombs, Researcher Says
Sam Kim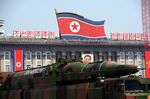 North Korea may have as many as 100 nuclear arms in five years and become capable of mounting them on a range of road-mobile missiles, a U.S. researcher said.
Joel Wit, who researches North Korea at the U.S.-Korea Institute at Johns Hopkins University, made the projection Feb. 24 at a seminar in Washington. In an e-mailed analysis to Bloomberg News, he said his moderate projection for North Korea's nuclear stockpile is for it to grow to 50 bombs by 2020 while the country develops a new generation of road-mobile medium- and long-range missiles tipped with nuclear warheads.
The assessment paints a more-advanced scenario of the isolated state's ability to produce nuclear arms than other estimates. Siegfried Hecker, a Stanford University professor, said last month the Kim Jung Un regime probably has 12 nuclear bombs and may have eight more by the time U.S. President Barack Obama leaves office in 2017.
North Korea probably has 10 to 16 nuclear weapons at present, including six to eight devices made from plutonium and four to eight from weapons-grade uranium, according to Wit.
"Today, Kim Jong Un is increasingly offering his own choice: between accommodation and acceptance of a nuclear-armed North Korea or periodic tensions and instability on the peninsula," Wit said in the analysis, jointly written with fellow researcher Sun Young Ahn. "This offer is built on the foundation of a nuclear and missile capability that is poised to rapidly expand over the next five years."
Nuclear Tests
North Korea hasn't made public how many bombs it has. The country conducted its third nuclear test in February 2013 and has since repeatedly threatened to conduct another one to deter what it calls U.S. hostility. South Korea said last month North Korea "may have made significant progress" in making nuclear bombs small enough to be loaded onto missiles.
The country has managed to expand its nuclear arsenal even as international sanctions have been stepped up since North Korea abandoned disarmament talks in 2009. North Korea successfully miniaturizing a weapon would pose a security risk to the entire region as it currently has missiles that can reach Japan, Russia, China and possibly the U.S.
North Korea's state-run Rodong Sinmun newspaper said Feb. 24 the country would increase its war deterrent as much as it could to deal with military drills by the U.S. and South Korea. Hours later the allies told North Korea they would begin their annual Key Resolve and Foal Eagle drills on March 2.
North Korea calls the exercises preparations for invasion, while South Korea and the U.S. say they are purely defensive.
Before it's here, it's on the Bloomberg Terminal.
LEARN MORE