Sales of New Homes in U.S. Hold Near Six-Year High: Economy
Nina Glinski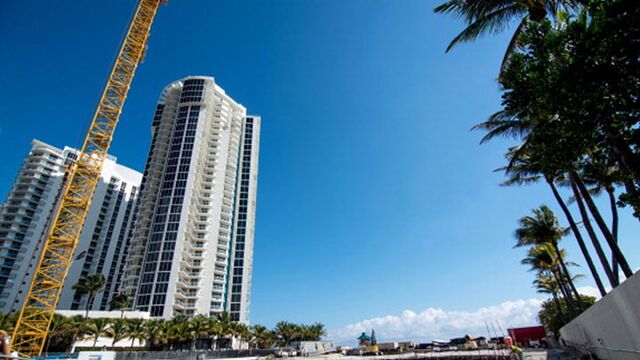 New-home sales in January held close to the fastest pace in more than six years, consistent with slow and steady progress that's been the hallmark of the U.S. housing market since early 2012.
Americans purchased 481,000 properties at an annualized rate last month, little changed from the 482,000 pace in December that was the strongest since June 2008, Commerce Department data showed Wednesday in Washington. Since a lull in July, sales of new homes have climbed 21 percent.
Employment opportunities, historically low mortgage rates and an increase in household formation are underpinning demand for homes as rents rise. Without easier financing terms and bigger wage gains to encourage more first-time buyers to take the plunge, housing may be hard-pressed to make a bigger contribution to economic growth.
The market "continues to move slowly forward, but at a modest pace," said Gregory Daco, lead U.S. economist at Oxford Economics USA Inc. in New York, who projected home sales at a 480,000 rate. "We're expecting the different drivers of the housing sector to get in place. That's an environment of low rates, reduced home price inflation, accelerating wage growth and rising or strong confidence."
The report showed a disparity among regions which was probably influenced by inclement winter weather that extended into this month.
Sales in the Northeast plunged 51.6 percent to record-low 15,000 annualized rate. In the South, the biggest region, purchases climbed 2.2 percent gain to a more than six-year high of 278,000. Demand in the Midwest also climbed, while the West experienced a small decrease.
Winter Weather
While new-home sales may suffer in February, "when unseasonably harsh winter weather likely depressed sales in the South, we still expect new-home sales to strengthen as we move into the spring selling season," Mark Vitner and Anika Khan, economists at Wells Fargo Securities in Charlotte, North Carolina, said in an e-mail to clients.
Stocks were little changed near all-time highs as declines in Hewlett-Packard Co. and Apple Inc. offset gains among retailers. The Standard & Poor's 500 Index fell 0.1 percent to 2,113.86 at the close in New York.
The median forecast of 76 economists surveyed by Bloomberg called for 470,000 new-home sales at an annual rate. Estimates ranged from 440,000 to 504,000 after a previously reported 481,000 pace in December.
The median sales price was $294,300, a 9.1 percent advance from January 2014, the report showed.
Housing Inventory
The supply of homes held at 5.4 months at the current sales pace. There were 218,000 new houses on the market at the end of January, the most since March 2010.
New-home sales account for about 7 percent of the residential market and are tabulated when contracts are signed, making them a timelier barometer than purchases of previously owned dwellings. The latter are calculated when a contract closes, typically a month or two later.
In 2014, builders sold 437,000 new houses, the most since 2008. The market peaked at a record 1.28 million in 2005 and slumped to 306,000 in 2011 after the housing bubble burst, the lowest in figures going back to 1963.
Other data demonstrate a fragile recovery. Existing home sales dropped more than expected in January as prices accelerated and inventory declined, figures from the National Association of Realtors showed Feb. 23. Purchases fell 4.9 percent from December to a 4.82 million annualized rate, the least since April, and first-time buyers accounted for a smaller share of purchases for a second consecutive month.
Existing Homes
The number of previously-owned homes available on the market dropped 0.5 percent from a year earlier, according to Lawrence Yun, the group's chief economist in Washington. Owners are opting to hold on to their homes for about 10 years on average, compared with the more normal seven years, he said.
That's translating into more spending on home upgrades, a welcome development for Home Depot Inc., the country's largest home improvement retailer. The Atlanta-based chain took advantage of a surge in renovation spending, reporting fourth-quarter profit that topped analysts' estimates.
"We had a strong finish to the year, as strength across the store, the recovering U.S. housing market and solid execution aided our business in 2014," Craig Menear, the company's chairman and chief executive officer, said in a Feb. 24 statement.
Home Renovations
The company, which Menear has led since November, said it improved customer service, streamlined online operations and invested in new distribution centers and inventory systems to keep stores better stocked. The result was profit excluding some items of $1 a share in the three months through Feb. 1.
That positive sentiment was not shared industry-wide. Figures on Feb. 18 showed homebuilder confidence waned to a four-month low in February as frigid winter weather kept prospective customers from touring new developments.
That was also reflected in construction data showing builders broke ground on fewer residential projects in January as demand for single-family homes cooled from an almost seven-year high.
Federal Reserve Chair Janet Yellen acknowledged the sluggish growth in her Feb. 24-25 testimony to lawmakers, while signaling that the Fed would adopt a flexible approach to raising interest rates.
"Housing construction continues to lag," Yellen said Feb. 24. "Activity remains well below levels we judge could be supported in the longer run by population growth and the likely rate of household formation."
Greater household formation could be spurred by a strengthening labor market. Payrolls steamed ahead in January, capping the biggest three-month gain in 17 years.
For those who can purchase a home, there is incentive to lock in historically low borrowing costs. The average rate on a 30-year, fixed mortgage was 3.76 percent in the week ended Feb. 19, according Freddie Mac in McLean, Virginia. It reached a low of 3.31 percent in November 2012.