Lure of Wall Street Cash Said to Skew Credit Ratings
Matt Robinson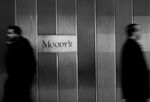 Michelle Choi, an analyst for Moody's Investors Service, gave a credit rating to bonds issued by a New Jersey town in September. In October, she switched sides and started working for the town's underwriter, Morgan Stanley.
Choi is one of hundreds of employees at Moody's and other credit-rating companies, including Standard & Poor's and Fitch Ratings, who've gone to work for Wall Street since the 2008 financial crisis exposed the conflicts at the heart of the ratings business.
While there's no evidence that Choi's job-hunting influenced the grade she gave Evesham Township's debt, and the town chose Morgan Stanley after Choi rated its bond, the rising number of job changes in the industry raises a question: can credit analysts be impartial about grading bonds while looking for employment at banks that underwrite them?
The ratings companies say the answer is yes. An academic study by longtime industry observers suggests otherwise.
"The fact that analysts can get employed by the issuers is a problem and the SEC should be doing something about it," said Marcus Stanley, policy director at Americans for Financial Reform, a Washington-based coalition of 200 advocacy groups. Ratings analysts can work for issuers immediately because there's no rule about a waiting period like there is in other industries. Accountants, in some cases, must wait one year before working for a company they audited.
Choi's new job at Morgan Stanley is "an internal risk function and is not part of the underwriting group," said Mary Claire Delaney, a Morgan Stanley spokeswoman. Choi declined to comment, Delaney said.
Credit Bust
Since 2008, more than 300 analysts have left the major ratings companies for jobs at banks and other debt issuers, according to U.S. Securities and Exchange Commission data. Last year alone, more than 80 people made the switch, the most since the SEC began compiling such data in 2006. That's out of a total of about 4,000 analysts employed by the ratings firms, according to SEC data.
The migration shows that the credit graders and Wall Street banks are as close as ever. Their symbiotic relationship first came to widespread attention in the aftermath of the 2008 credit bust, when Moody's and S&P were accused of inflating the rankings of mortgage bonds in order to win and keep business from underwriters.
The U.S. Justice Department has been investigating the role the two played in the fiasco, and this month S&P agreed to pay $1.5 billion, without admitting guilt, to settle cases with state and federal authorities. The investigation into Moody's continues.
By Committee
"Moody's ratings are determined by ratings committees, not by individual analysts, and we have robust policies in place to safeguard the independence and integrity of the ratings process, including 'look-back' reviews for analysts who have left the company," said Thomas J. Lemmon, a Moody's spokesman. The company declined to comment about the Justice Department probe.
Buyers of the Evesham Township bonds weren't told about Choi's change of employer, and Moody's hasn't disclosed the possible conflict of interest, nor is it required to.
Higher ratings, if inaccurate, can understate a security's risk and cost bond buyers money.
The working paper, "Revolving Doors on Wall Street," found that money is the biggest factor causing ratings inflation. The more an analyst gets paid at her new job, the higher her ratings relative to those of other analysts, the study said.
Largest Discrepancies
Analysts hired by the biggest Wall Street banks were the ones responsible for the largest discrepancies with other raters of the same bonds, according to authors Jess Cornaggia of Georgetown University and Kimberly Cornaggia of American University, both in Washington, and Han Xia of the University of Texas at Dallas.
"Even if there is no quid-pro-quo dynamic, if I have the ability to affect the performance of my future employer, it's in my own interest to think positively about it," Kimberly Cornaggia said in a phone interview.
The authors quantified the difference. If an analyst is hired by one of the top 20 banks, rankings rise by 0.35 level on average compared with an average 0.18 grade increase for all analysts switching positions.
If that bump-up elevates the bond to investment grade from a speculative, or junk, rating, the borrower would save $85 million in interest over the life of a $1 billion 10-year bond, according to data compiled by Bloomberg.
In September, while Choi was a Moody's analyst, she assigned an Aa3 grade, the fourth-highest, to a $13.2 million general obligation bond issued by Evesham Township, a 30-square-mile (77-square-kilometer) municipality with a population of 45,500 east of Philadelphia.
It's not possible to compare Choi's rating because Moody's was the only company hired to offer an opinion.
New Rules
In new rules slated to take effect in June, the SEC is trying to reduce possible conflicts of interest by directing ratings companies to use their discretion to determine if a grade needs to be re-evaluated after an analyst or manager leaves the company.
John Nester, an SEC spokesman, declined to comment.
Ratings companies should inform bond buyers any time an analyst leaves to work for an issuer, said Jeffrey Manns, an associate professor of law at George Washington University in Washington.
"It would be simpler and more transparent if there was a disclosure system," Manns said.
Waiting Period
The biggest banks are the largest employers of former credit analysts. Since 2006, New York-based Morgan Stanley has hired the most, 16, followed by Frankfurt-based Deutsche Bank AG with 14, according to SEC data compiled by Bloomberg.
The job hunt is international. Oliver Issl worked as an analyst at Fitch in Frankfurt for more than five years evaluating securitized debt. He took that experience to Dutch bank NIBC Bank NV in October to help create the same type of securities he was grading for the Hague-based lender.
Spokesman Diederik Heinink declined to comment on behalf of NIBC or Issl.
"Fitch has very robust policies and procedures in place to ensure the objectivity of our ratings, including policies around the credit work of any analyst who leaves Fitch for employment with a rated entity," Rebecca O'Neill, a Fitch spokeswoman, said in a statement.
In London, Roneil Thadani joined the rating advisory team at Credit Agricole SA in November, helping guide underwriters through the ratings process. He worked at S&P for eight years grading structured finance securities and infrastructure bonds.
Spokeswoman Maryse Dournes declined to comment on behalf of Montrouge, France-based Credit Agricole and Thadani.
"If an analyst participates in rating an entity and then leaves our employment and goes to work for the rated entity, we review the analyst's rating on the entity to determine if it was appropriate," said Catherine Mathis, a spokeswoman for New York-based S&P.
Before it's here, it's on the Bloomberg Terminal.
LEARN MORE