politics
Senate Advances Homeland Funding as House Republicans Balk
Heidi Przybyla and Billy House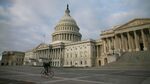 The Senate voted to advance a plan to finance the U.S. Department of Homeland Security, a step toward sending the funding dispute to House Speaker John Boehner to resolve.
The Senate procedural vote was 98-2. Majority Leader Mitch McConnell said he would work to get the funding measure to the House by the end of the week.
Funding for the agency expires after Friday. House Republicans have refused to consider a spending bill unless the measure also blocks President Barack Obama's orders on immigration. The Senate plans to address the two issues in separate bills.
"All eyes now shift to the House of Representatives," said Senate Minority Leader Harry Reid told reporters. "It's no secret," he said. "The Republicans in the House don't know what they're going to do."
Boehner has refused to endorse McConnell's plan. House Appropriations Chairman Hal Rogers, a Kentucky Republican, said he would support a bill that solely funds the Homeland Security agency, though it "remains to be seen" how such a measure would fare in the House.
Senate Republicans Jeff Sessions of Alabama and Jim Inhofe of Oklahoma voted not to move the funding measure forward.
Private Meeting
Boehner and McConnell met privately Wednesday afternoon. A senior House Republican member said the meeting was described to him afterward as a careful discussion of how and when the standoff might play out. The lawmaker didn't say whether the two leaders had arrived at a plan for reaching an agreement.
Earlier in the day, Boehner told told party members during a private meeting that he and McConnell, a fellow Republican, hadn't spoken in two weeks, several lawmakers said.
"Our staff talk back and forth," Boehner of Ohio told reporters when asked about contact between the leaders. "Senator McConnell's got a big job to do; so do I."
Meanwhile, Reid, a Nevada Democrat, said he and McConnell "have had a number of very good discussions in the last 24 hours or so."
The risk of a partial Homeland Security shutdown comes less than two months after Republicans took control of both chambers of Congress. McConnell has insisted there will be "no government shutdowns."
Netanyahu Speech
Lawmakers also risk embarrassment if they allow a partial Homeland Security shutdown lasting until March 3, when Israeli Prime Minister Benjamin Netanyahu is set to address a joint meeting of Congress on security issues.
"That would be ironic," said Representative Raul Grijalva, a Democrat from Arizona who is co-chairman of the House Progressive Caucus.
Representative Steve King, an Iowa Republican, said, "A vast majority of DHS services -- essential services -- will not be shut down." He added, "So, it does not mean we are at risk."
Republicans have been trying to use the agency funding bill to block Obama's decision in November to ease deportation for about 5 million undocumented immigrants in the U.S. The Senate failed four times to advance a House bill that linked the issues before Wednesday's vote.
Democrats oppose any legislation to block Obama's immigration orders. Even if such a measure gets to the president's desk, Obama would veto it.
Possible Backlash
As the Senate moves forward, harder-line House Republicans are digging in and saying they won't vote for any bill stripped of the Obama immigration language. Some, including Representative Marlin Stutzman of Indiana, said Boehner could face a backlash from conservatives in his conference, knowing such a bill likely would be passed with Democratic support.
Boehner told fellow Republicans late last year "we were going to fight it tooth and nail," Stutzman said. "And I've applauded his efforts so far."
Thirty House Republicans signed a letter urging Boehner and other party leaders not to back down, said Representative Jeff Duncan of South Carolina, who circulated the letter.
McConnell and Boehner of Ohio have been in a tug-of-war over strategy. Two weeks ago, McConnell declared the Homeland Security bill "clearly stuck in the Senate" and said the next step was up to the House. Boehner, though, insisted "the House did its job" and the Senate must make the next move.
Tea Party
Boehner has been under pressure from the Tea Party wing of the Republican Party to use the Homeland Security bill as leverage after the speaker promised a battle over immigration in 2015 to his rank and file.
A 16-day partial government shutdown in October 2013 was triggered by a dispute over funding Obamacare.
Under Senate rules, a vote on final passage of the spending measure couldn't be held before Sunday unless all members agreed to a quicker schedule. Congress could pass a short-term spending bill to keep the department operating in the meantime.
Jennifer Hing, a spokeswoman for the House Appropriations Committee, said a stopgap spending measure can be prepared and ready for a vote within hours.
While Boehner wouldn't say how the House would respond to a Senate bill that funds Homeland Security without addressing immigration, other leaders suggested possible paths forward.
Conference Committee
House Rules Committee Chairman Pete Sessions of Texas said one option is to pass a short-term funding measure, followed by a conference committee to resolve differences between bills passed by the House and Senate. He said Republican leaders won't necessarily adopt his preferred approach.
Several House Republicans -- John Fleming of Louisiana, Matt Salmon of Arizona and Mo Brooks of Alabama -- said they are definite "no" votes on any bill that funds Homeland Security without addressing Obama's immigration actions.
In addition to Rogers, one Republican House member who said he could vote for such a bill is Representative John Carter of Texas, chairman of the Appropriations subcommittee on homeland security.
(Updates with Boehner-McConnell meeting in seventh paragraph, possible timing of Senate vote in 23rd paragraph.)
Before it's here, it's on the Bloomberg Terminal.
LEARN MORE