High-Flier Pharmacyclics Picks Right Time for Sale
Brooke Sutherland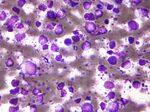 There's never been a better time for Pharmacyclics Inc. to consider a sale.
The developer of cancer treatments was trading at a record even before surging as much as 23 percent Wednesday after people familiar with the matter said it's exploring a sale and has attracted Johnson & Johnson and Novartis AG.
A takeover premium would give a final boost to a stock that's already gained more than sevenfold in the past three years on the strength of its blockbuster cancer drug Imbruvica. The dizzying rise in the shares led Roth Capital Partners' Joseph Pantginis to say last week that the good news on the drug may already be baked into the price.
"I wouldn't argue with the team cashing out at a premium to this stock price," Brian Skorney, a New York-based analyst at Robert W. Baird & Co., said in a phone interview. "They've demonstrated that it's a fantastic drug."
Companies with promising treatments in hand are finding ready buyers as large drugmakers seek to replace once-blockbuster remedies that are now facing patent expirations. There have already been $42 billion of acquisitions announced so far in 2015 among biotechnology, pharmaceutical and health-care products companies, after a record year for deals in 2014, according to data compiled by Bloomberg.
Cancer Fighter
Pharmacyclics shares climbed 17 percent on Wednesday to $220.22, valuing the drug developer at $16.7 billion. It may fetch $17 billion to $18 billion in a sale, people familiar with the matter said, asking not to be identified discussing private information. That would make it the biggest biotechnology deal since 2011, when Sanofi completed its purchase of Genzyme Corp. for about $20 billion.
The long-term prospects for Imbruvica might make a takeover worth the price. The U.S. Food & Drug Administration this year approved a fourth use for the cancer-fighting treatment, which should help push Pharmacyclics' revenue to more than $2.5 billion by 2017, according to analysts' estimates.
"Imbruvica is a once-in-a-decade, or every couple of decades, drug," Baird's Skorney said.
J&J Logic
J&J's Janssen Biotech Inc. is already partnered with Pharmacyclics on Imbruvica and that makes it the most logical acquirer, Skorney said.
A takeover of Pharmacyclics would be J&J's biggest deal since 2012, when it bought Synthes Inc., a maker of devices to treat bone fractures and trauma. It largely sat out of last year's merger boom, opting instead to sell about $4 billion in assets.
The company is seeking to restock its pipeline as drugs such as hepatitis C treatment Olysio and blood thinner Xarelto face new competition. Analysts project the company's revenue will decline 3.5 percent this year, its worst performance in more than three decades.
Skorney estimates Pharmacyclics could fetch as much as $275 a share in a takeover, a premium of about 25 percent on top of Wednesday's gains.
Before it's here, it's on the Bloomberg Terminal.
LEARN MORE