Greek Curve Shows Long-Term Prospects Doubts: Chart of the Day
Ari Altstedter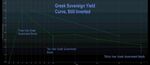 Greek Prime Minister Alexis Tsipras has won his country four more months of bailout funds. Holders of the nation's sovereign debt are yet to be convinced he'll deliver a plan that gets them all their money back.
The CHART OF THE DAY shows investors are demanding a premium to hold Greece's shorter-maturity bonds compared with longer-dated securities even after euro-area finance ministers approved a Greek bailout extension Tuesday. Normally, a country faces higher borrowing costs for longer-term securities to compensate for unforeseen risks.
"It takes the pressure off for the moment, but it still does not answer how Greece is going to pay its bills," said Greg Anderson, Bank of Montreal's global head of foreign-exchange strategy, by phone from New York. "A steep inversion like that tells you markets are still pricing in a pretty high possibility of a haircut," or reduction in the amount that will be returned to bond holders at maturity, he said.
In exchange for pledges to revamp tax collection, consolidate pension funds and sell state-owned assets, Greece was given until April to come up with a more detailed fiscal plan. At the same time, Tsipras must satisfy voters who brought him to power on pledges to restore social programs that euro area finance ministers say the country can't afford.
Greece's three-year notes yielded 4.14 percentage points more than its 10-year bonds at 8:04 p.m. New York time, according to data compiled by Bloomberg. The difference, known as the yield curve, has been inverted since December. It widened to as much as 11.55 percentage points on Feb. 10 amid concern the nation would fail to clinch a deal to keep bailout funds flowing.
"That inversion will likely last months, if not a year, until that stress is gone," Anderson said.
Before it's here, it's on the Bloomberg Terminal.
LEARN MORE