Espirito Santo Collapse Threatens Artisan Jobs in Portugal
Anabela Reis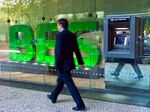 Ricardo Ribeiro Espirito Santo e Silva was 16 when he started collecting antiques.
His brothers made fun of him when he arrived home with a battered rug, he recalled in a 1955 interview with a French arts magazine not long before his death at the age of 54. Two years earlier, the scion of one of Portugal's biggest banking groups had donated his collection to the state and inaugurated the Museum of Portuguese Decorative Arts in a 17th century palace and an arts-preservation school in Alfama, Lisbon's historic center.
Now, the foundation he created for centuries-old decorative arts and handicrafts, including rare hand-beaten gold leaves, is having to reinvent itself after the collapse of family-founded Banco Espirito Santo SA. The bank, which was the foundation's main patron, can no longer support it, prompting a quest for other funding.
"This is a unique project in Europe, one that safeguards the art of savoir-faire," Maria da Conceicao Amaral, the foundation's president, said in an interview. "It's time to rethink the project."
Banco Espirito Santo, rescued by the Bank of Portugal in August, provided about 70 percent of the foundation's private donations each year. It contributed 940,000 euros ($1.06 million) in 2013. It was also one of the foundation's biggest clients, buying antique furniture replicas for its headquarters.
The foundation had a patron and a "greater commercial effort wasn't needed," said Francisco Murteira Nabo, an economist and a member of the foundation's Council of Curators.
Then, as regulators uncovered potential losses at Banco Espirito Santo from loans to companies tied to the family, the bank was split in two with most of its assets and deposits moved to a new entity, Novo Banco SA. With the country's central bank expecting non-binding offers for Novo Banco in less than a month, the foundation finds itself at a crossroads.
Rare Collection
"There was no awareness we would lose the patron," Amaral said. "We are neither the family's nor the bank's; we didn't end up in the good bank or the bad bank."
Saving Ricardo Espirito Santo's collection and the know-how accumulated over the years has become paramount. In what is probably the biggest private collection in Europe of decorative art from the 15th to the 18th centuries, it has everything from tapestries to porcelains and silverware to furnishings, paintings and tiles. The collection includes a rare 16th-century tapestry called "The Triumphal Procession with Giraffes," inspired by Portugal's discoveries and bought by the founder after two years of talks in the late 1940s in New York.
The foundation's workshops have restored artworks such as the Madame du Barry Library at the Palace of Versailles and the furniture and murals of 18th-century Seteais Palace in Sintra, outside Lisbon.
"You won't find such diversity and excellence of workmanship anywhere else in Europe," said Jose Durao, 38, a wood carver at one of the workshops.
Survival Fight
The foundation was squeezed during the European financial crisis. Revenue in 2013 was 1.2 million euros, less than half that in 2009, while loans from Banco Espirito Santo reached 2.5 million euros.
"The foundation had to live and survive the last eight years at the limit of its daily cash management," the former president of the board, Luis Calado, wrote in the 2013 report.
Amaral, who started working at the museum as its director in 2007 and was named president of the foundation in January, is optimistic it can be sustained by finding new supporters and partners, pursuing a more commercial angle and striking collaborations with contemporary designers.
The foundation has been hosting sales in Lisbon and Oporto, in northern Portugal, to promote the workshops' output. Nowhere else can one find replicas done with such quality, skill and by hand as if they were originals, Murteira Nabo said.
Rare Craftsmanship
"I'm so sad that such a good ship should drift away," said wood carver Durao. "The Ricardo Espirito Santo foundation doesn't exist without us, it's not a name, it's us."
Techniques that would probably been otherwise lost are passed on from master to apprentice. The work is so specialized craftsmen make some of the tools themselves, Durao said, as he ran his fingers along a 17th-century Islamic pharmacy being restored for the Pharmacy Museum in Oporto.
"Each piece has the craftsman's unique touch," he said.
The foundation has 18 arts and crafts workshops. Most workers have been with the foundation for years. About 120 people work at the foundation.
"They're people who've gone without salary raises since 2006, and are still holding this together," Amaral said.
Paulo Ribeiro, 50, has worked at the decorative painting workshop for 35 years. He started at 15, brought in by an uncle.
"I didn't understand a thing of this, I only knew I liked to draw," he said, adding that he spent the next six years as an apprentice.
He married a colleague who works at the textile workshop. Their son also works for the foundation.
Not Replicable
"What has been done over 60 years, if lost, no money can recover," said art historian Nuno Saldanha, who was an adviser to the museum for a year in the 1990's. "We would need 100 years to do something similar."
In 2013, the foundation won a European Union cultural heritage prize for dedicated service. Saldanha says the state should take it over.
The foundation got 200,000 euros annually from the Ministry for Culture through 2011. Last year, it got 140,000 euros. Secretary of State for Culture Jorge Barreto Xavier has met with the new board to consider its plight.
The country's directorate-general for cultural heritage opened a procedure to classify the collection in November, which protects it from being sold to pay off debts.
"I think we have passed the worst of the storm," Murteira Nabo said.
For now, what might help are collaborations like the one with Portuguese contemporary artist Joana Vasconcelos, one of whose pieces for the 2012 exhibition at Versailles was made at the foundation's workshop. The wooden sculpture, called La Perruque, was vaguely inspired by a Faberge egg and meant to evoke wigs worn during the era of Marie Antoinette.
If the workshops were to close, most artisans would probably have to leave the country.
"It would be difficult here," said cabinet-maker David Cruz, 28, as he prepares the delicate inlays for a reproduction of an 18th-century Louis XVI commode. "Maybe England or France."
Before it's here, it's on the Bloomberg Terminal.
LEARN MORE