Oil Bust Empties Out Private-Jet Parking Lot in Texas
Thomas Black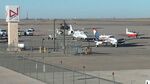 The oil boom last year was easy to see at the airport in Midland, Texas, the gateway to the biggest crude-producing region in the U.S. The 30 or so spaces for private planes were often filled.
On one day in early February, a lone corporate jet sat on the tarmac, the empty spots a harbinger of the slowdown looming in a city that is 85 percent dependent on the oil and gas industry.
In petroleum capitals such as Midland, a place long known for swaggering wildcatters who made and lost fortunes, corporate and personal jet travel has been a bellwether for the health of the energy business. That indicator took a turn down in January, when private-aircraft flights to Midland dropped about 9 percent, amid the global rout in crude prices.
"Private aviation is definitely a discretionary spend and you can turn it on or turn it off very quickly," said Brian Foley, a Sparta, New Jersey-based aerospace consultant. "When there's uncertainty, people will look to hunker down."
For Midland, an oil-industry pullback would choke off an economic surge that helped shrink the city's unemployment rate to just 2.1 percent in December, half the national rate. The threat of local layoffs joining the 100,000 lost oil jobs around the world also would mark a break with a U.S. recovery that's been driven in part by surging domestic crude output.
Boom-and-bust cycles are a way of life in Midland, the city of more than 121,000 where President George H.W. Bush got into the oil business, followed by his son, George W. Bush. Midland's economic expansion from 2010 to 2013 led all 380 U.S. metropolitan areas tracked by the Bureau of Economic Analysis.
Private Flights
Demand for private flying surged along. General-aviation operations at Midland International Airport jumped almost 10 percent in 2014, according to data reported to U.S. regulators.
Now, private aviation's role as canary-in-a-coal-mine is being watched closely again. Even as airline traffic rose at Midland International in January, business-jet takeoffs slid along with smaller non-commercial aircraft, according to data tracker FlightAware. Private flights are poised to drop again in February.
That one corporate jet on the tarmac, owned by Cimarex Energy Co., a Denver-based oil explorer, may be on the ground more often these days. The Learjet 60 model typically seats eight passengers and has the range to reach New York or Seattle from Midland.
"We're looking to control expenses wherever we can," said Karen Acierno, director of investor relations, declining to provide further details.
'Be Careful'
With even a small jet such as four-seat Cessna Citation Mustang retailing for more than $3 million, oil's retreat is putting a crimp on some luxury-plane sales and travel for energy executives.
"Anyone who had been contemplating an expenditure that runs into millions probably has tabled that decision for the time being," said Janine Iannarelli, founder and president of Houston-based aircraft broker Par Avion Ltd. "They want to be careful with cash flow."
Corporate flying has long been a sensitive topic for aircraft owners and the companies that serve them, and businesses in Midland are no exception now that a peak in local traffic has been passed.
Landmark Aviation, the Carlyle Group LP unit that runs the only private-plane operations base at Midland International, wouldn't comment about the local drop in flying.
Business-Jet Peak
History suggests how private aviation can foretell the end of a boom. In 2008, months before Lehman Brothers Inc.'s September bankruptcy filing became a signal moment of the global financial crisis, U.S. business-jet flying peaked in March, then fell in every month save one for the rest of the year.
For Midland, any economic stress may be a few months away. Big-ticket local projects remain under way, such as Chevron Corp.'s curved, four-story glass-faced office building and a complex across the street for Occidental Petroleum Corp.
"A lot of money has been made in this town so most folks are going to be just fine," Patriot Drilling LLC President Scott Dufford said over a bowl of gumbo at the Petroleum Club of Midland. "We're hoping it's only short-term pain."
Still, a daily reminder of the pullback is the region's oil rig count displayed on a downtown Midland bank sign instead of the usual time or temperature. The rig tally was 362 as of Feb. 20, down by a third from October's peak, according to Baker Hughes Inc. data compiled by Bloomberg.
Local outposts of companies such as Chevron and EOG Resources Inc. are poised to feel the pinch from shrinking capital-spending budgets.
The city's dependence on a single commodity means the downturn "will be significant," said Karr Ingham, an economist based in Amarillo, Texas, who specializes in the region's oil economy. "I don't think there's any escaping that at this point even if prices were to turn and go back north again."
Before it's here, it's on the Bloomberg Terminal.
LEARN MORE