Driving With Chinese Characteristics? No Thank You: Opening Line
Matthew Brooker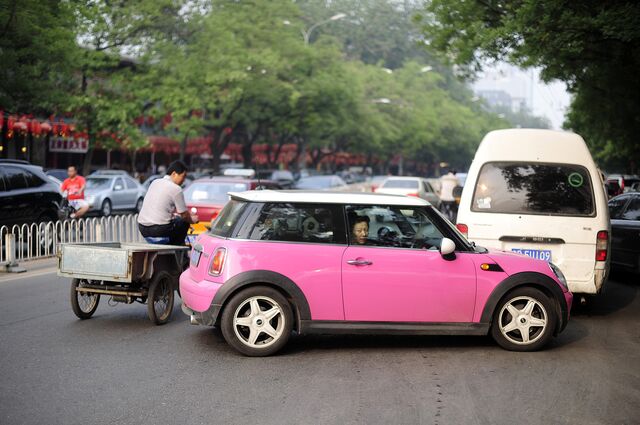 Is the outside world ready for mainland Chinese drivers?
It's a serious question, which arose when a report from New Zealand floated into view yesterday.
A family of five from China, including a baby, had their journey abruptly halted after a fellow motorist saw the driver repeatedly stray across the center line into the path of oncoming traffic.
The local motorist followed the car until it stopped, confiscated the driver's keys and dropped them through the door of a nearby police station, New Zealand's The Press said.
The incident came amid a growing clamor in New Zealand for action after a series of fatal crashes and arrests for careless driving involving tourists, according to The Press.
The report took us back to our sojourn in Shanghai, which began in the mid-2000s when China was still in the early days of an exploding vehicle market. Passenger car sales were 2.3 million in 2004; last year they were 19.7 million.
It was a sobering experience. First order of business was to re-educate the kids on road etiquette. You remember the green man? Forget about the green man! The green man means nothing. Ignore him. Just hold our hand.
Everything moves at warp speed in China (bar the traffic.) When we visited Shanghai for the first time in 1993, there were few motor vehicles to be seen. The streets were narrow and choked with bicycles. Our car rarely moved at more than 5 miles an hour.
A decade later, swathes of the city had been torn up and replaced with wide elevated highways. There were so many new cars (and by extension new drivers) that the traffic often still moved at no more than a crawl.
There appeared to be no rules. Do as you please was the whole of the law provided you didn't hit anything. Turning in front of oncoming traffic was a particular heart-stopper for the newly arrived foreign passenger. Why wait for a gap in the traffic? Make them slow for you, if you can.
In this chaotic environment, many Shanghai drivers seemed unusually skillful, developing a sixth sense for what bizarre maneuvers other motorists were likely to undertake. We never saw a serious crash in the city, though the statistics continue to say China has the worst death rate for traffic accidents in the world.
What happens, though, when you take such drivers out of China and put them in an environment where motorists follow the rules and expect others too as well? With China now leading the world in outbound tourism, this is no idle question.
As for the New Zealand family, the driver from Beijing had his rental agreement canceled after police viewed video footage taken by a passenger in the vehicle that was following behind, according to the report. The family chartered a private plane instead and continued on their way to Queenstown.
We think they, and New Zealand road users, were probably better off.
***
Economic indicators in Asia today include Singapore industrial production, Hong Kong trade and Taiwan unemployment for January. Data are also scheduled on Australian private capital expenditure for the fourth quarter, Taiwan current account balance, Indonesia's money supply and China's January commodity and energy trade data.
Earlier this morning, New Zealand reported a bigger-than-estimated 3.8 percent decline in imports for January.
It's a big day of earnings with Cheung Kong, Hutchison Whampoa, AIA Group, Noble, CLP Holdings, LG Display, Malayan Banking, Bumrungrad Hospital and AirAsia among companies scheduled to report.
Qantas posted its strongest half-year earnings in four years this morning, with earnings before tax and one-time items of A$367 million ($289 million) in the six months ended Dec. 31.
Economic releases in Europe include M3 money supply and loan growth data for January for the euro area.
Companies reporting earnings include RBS, Allianz, AB InBev, BAT, GDF Suez, Bayer, Thales, Deutsche Telekom, Repsol, Reed Elsevier and Ahold.
The U.S. has a series of economic releases tonight, with data due on inflation, durable goods orders, jobless claims and house prices. Consumer prices probably declined in January from a month earlier by the most since 2008 as the cost of energy slumped, according to the Bloomberg survey.
Sears, Kohl's, AES, Fortress, Visteon and Herbalife are among companies scheduled to report earnings.
***
- Bank of Japan board member Koji Ishida gives a speech in Yokohama this morning - New Zealand Finance Minister Bill English speaks at an event in Auckland - French President Francois Hollande speaks on climate change in Manila - Prince William arrives in Japan today for a four-day visit
- Yellen defends Fed's independence - Gulliver says HSBC Swiss tax saga was product of another era - China's central bank names two new deputy governors - Sony to separate more units - RBS said to plan cutting number of countries in which it operates by two-thirds - HP said to be in talks to buy Aruba Networks - Sayonara Nagoya, aloha Hawaii for AirAsia X - China drops Apple from approved state purchases list - Olympus sued by patient over endoscopes linked to 'superbug' - China starts mass promotion for Xi Jinping's political theory of 'Four Comprehensives' - A slowing China still leads global growth - What to consider before reading Buffett's letter - The puzzle of China's oil demand - Growing pains for Korea's Kakao Talk - Global backlash against Chinese housebuying - More than 100 million people in China sent gift money via mobile phone apps during the Lunar New Year holiday - Avalanches kill more than 100 Afghans in Hindu Kush - He was only storing the Porsche - Billionaire blames Western education for 'Buxomgate' - Godzilla-themed hotel to open in Tokyo - Selling nonalcoholic beer to Malaysia's Muslims - Don't try this at home - Pot was illegal in Jamaica. Who knew? - China's social media at war over Common's Oscars speech
***
Another ho-hum day in the U.S. markets, with the Standard & Poor's 500 Index slipping less than 0.1 percent from a record. Treasuries didn't do much either, but oil jumped.
If you need something to talk about around the water cooler, Meredith Whitney is in the news again. Luckily this time it's because her hedge fund is on the rocks and not like a few years ago when she was in the news because, you know, the whole financial system was on the rocks.
Whitney, the bank analyst turned hedge fund manager, was sued by Michael Platt's BlueCrest Capital Opportunities because she refused to return his investment in the fund, a redemption request she said was a "blatant attempt to force the fund's dissolution," as Chris Dolmetsch reports.
Platt's own fund wasn't doing so hot either, with its value dropping by about half and additional losses projected following the departure of Leda Braga. Braga was the head of computer-based trading who left to start her own firm, and is now managing more money than any other hedge fund run solely by a woman. She apparently is crushing it with a 9.5 percent return in January, as Lindsay Fortado reports.
Platt allegedly got a little snippy over the whole matter, according to court papers. When Whitney said that giving him back his seed money would damage other outside investors, he allegedly responded: "What do you have in outside money, one dollar, two dollars?" That allowed Bloomberg View's Matt Levine to get a little snippy about what he called a "sick burn."
Regardless, for better or worse, it's nice to see more women involved in the hedge-fund news.
***
If you're part of Hong Kong's squeezed middle class, then know this: John Tsang feels your pain, and he hasn't forgotten you.
The Hong Kong financial secretary who equated being middle class with drinking coffee and watching French movies showed he isn't ready to let go of his fetish in yesterday's budget.
Scratching around for reasons to be cheerful about Hong Kong's future, Tsang found it: in a local startup that's designed a mobile application for pre-ordering coffee.
Can't afford an apartment? Sick of being told that a choice between two or three handpicked pro-Beijing candidates is democracy? Never fear: thanks to the ingenuity of Hong Kong's home-grown entrepreneurs, you can now save 30 seconds waiting time at Starbucks. Sacre bleu!
Well, who knows. Great trees do from small acorns grow. Maybe increased efficiency in caffeine dispensation will change the world. We wouldn't bet on it though.
Fifteen years on, we're still waiting for the next Microsoft to hatch from the glorified property development known as Cyberport. This town just doesn't seem to have the right infrastructure to make it big in the technology world.
If only we had some one-bedroom apartments, like Jack Ma.
***
Oh dear, Arsenal. No surprise to see the old frailties return, though we wouldn't have expected Monaco to be the team to exploit them. The Gunners look as good as out of the Champions League after going down 1-3 in their home first leg. The boos ringing out around the Emirates at the final whistle showed what the Arsenal fans thought of that one.
For the second night in a row, a Premier League alumnus returned to haunt English hosts. On Tuesday night it was Luis Suarez tormenting Manchester City. This time it was Dimitar Berbatov, formerly of Tottenham, who scored the second goal in what the Guardian called a "magnificent" performance. That must hurt.
Meanwhile, Ireland won a thriller against the United Arab Emirates at the Cricket World Cup and now have two wins from two. Nice to see the minnows providing some genuine tension and drama after some one-sided contests between (alleged) first-tier nations.
Before it's here, it's on the Bloomberg Terminal.
LEARN MORE