Draghi Winning Greek Respite Shifts Focus to Inflation Battle
Paul Gordon and Alessandro Speciale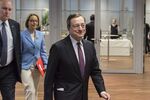 A respite in Greece's bailout talks allows Mario Draghi to return his attention to the region's dismal price outlook.
Reform proposals by the Greek government, which the European Central Bank president has described as a valid starting point, have freed the ECB from immediate concern over funding the country's banks. That gives him scope to focus on the details of a 1.1 trillion-euro ($1.3 billion) quantitative-easing program designed to stave off deflation.
Draghi, who addressed the European Parliament in Brussels on Wednesday, is about to get data from Germany, Spain and Italy that will show a continued slump in consumer prices. The reports are a preamble to region-wide figures on Monday forecast to show prices falling at a near-record pace and new ECB projections due next week after a Governing Council meeting in Cyprus.
"Draghi is probably very relieved to avoid being forced to pull the trigger on Greece," said Teunis Brosens, senior economist at ING Groep NV in Amsterdam. "He will now focus on QE, with inflation likely to remain negative at least until the summer."
Economists in Bloomberg's monthly poll forecast that euro-area consumer prices will fall 0.5 percent this quarter and decline 0.1 percent in 2015. The ECB will publish its new projections after its meeting on March 5. It forecast in December that inflation would average 0.7 percent this year and 1.3 percent in 2016.
Forecast Revisions
Dirk Schumacher, an economist at Goldman Sachs Group Inc. in Frankfurt, predicts Draghi will announce a "significant downward revision" to the 2015 outlook for consumer prices, though growth projections may be raised.
The driving force behind weaker inflation and higher economic output is a slump in the cost of oil in the second half of 2014 that previous forecasts didn't incorporate in full.
In Germany, Europe's largest economy, consumer prices probably fell an annual 0.5 percent in February, according to a Bloomberg News survey of economists, matching the biggest fall in more than five years. Spanish prices plunged an annual 1.5 percent, the same pace as in January, which was the most since Bloomberg began collecting the data in 1997. Italy's inflation rate was minus 0.3 this month, a separate survey showed. All data will be published on Friday.
Draghi told European Union lawmakers that as inflation expectations worsened in January, "a more forceful monetary-policy response became necessary."
After pledging to start sovereign-bond purchases early next month, he's now under pressure to unveil details of the program and consider the possible unintended consequences.
Greek Banks
"We had to give oxygen to the system," Governing Council member Luc Coene, the Belgian central-bank governor, said in an interview with De Telegraaf published on Tuesday. "It remains to be seen what the impact will be, and we need to be careful to not create bubbles. We are aware of the risks."
In the European Parliament, Draghi faced comments about his stance on Greece. The ECB removed a waiver on the quality of Greek debt it accepts as collateral after the newly elected government rejected the country's bailout package. That cut off Greek banks from regular funding operations and moved them onto emergency liquidity assistance.
"The issue of the waiver is an issue of rules," Draghi told legislators. The ECB is ready to reinstate the exemption as soon as the Governing Council decides that the conditions for the successful completion of the program are in place, he said.
Such a decision probably won't come before the March 5 meeting at the earliest, even after euro-area finance ministers approved an extension of Greece's aid program on Tuesday.
German Doubts
Greek Finance Minister Yanis Varoufakis said in an interview with Real FM broadcast on Wednesday that the country will continue to cooperate with the ECB, the International Monetary Fund and the European Commission. His German counterpart, Wolfgang Schaeuble told SWR2 radio that there are doubts in his country whether the Greek government's assurances can be trusted.
Draghi highlighted the fragility of the accord reached between Greece and its creditors in a letter to Eurogroup head Jeroen Dijsselbloem.
"The basis for concluding the current review, and also for any future arrangements, will be the existing commitments," he said. Those "outlined by the authorities differ from existing program commitments in a number of areas" and will have to be evaluated to see if they're "of equal or better quality," he said.
Before it's here, it's on the Bloomberg Terminal.
LEARN MORE