Marco Rubio Plays Foreign-Policy Hand in New Hampshire
He's seeking to highlight his credentials while also satisfying the conservative base of his party that sees Obama as ineffective overseas.
By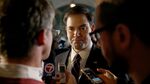 If Marco Rubio plunges into the race for the Republican presidential nomination, one of the strongest lines on his résumé will be his experience as a member of top foreign affairs committees during his lone term in the U.S. Senate. Those credentials will be particularly important as long as Republican voters—including those in Iowa and New Hampshire—continue to cite terrorism as the top issue for the next president.
Rubio played that hand at multiple stops in New Hampshire this week, where he pushed for a stronger U.S. presence in disputes in the Middle East, Asia and Ukraine; asserted that President Obama believes America is "often the cause of these problems" overseas, and argued that the current administration no longer collects intelligence from those supporting groups such as al-Qaeda and Islamic State.
It's a fine line for Rubio to walk: He wants to display the knowledge he gained after visiting 16 countries in the past five years, while also satisfying the conservative base of his party that sees Obama as ineffective overseas. Just 12 percent of Republicans approve of the president's handling of foreign affairs, compared to 67 percent of Democrats and 29 percent of independents, according a Gallup poll released Feb. 15.
Those who watched and interacted with Rubio in New Hampshire generally said he performed well during a townhall-style meeting in Hollis, which attracted about 100 people on a frigid Monday afternoon, and at St. Anselm College's New Hampshire Institute of Politics, which drew more than 150 people Tuesday morning despite below-zero temperatures. There was clearly a high level of curiosity about the Florida Republican who is one of his party's most gifted communicators, and he showed at both events that he can deliver a stirring speech, and also answer a range of questions with intelligence and quick wit.

A rare instance in which he appeared to stumble was his assertion that the U.S. no longer gathers intelligence from terror suspects. The answer came in response to a question at St. Anselm about how to address the "problems we have" putting terrorists "on criminal trials in the U.S. and elsewhere."
"If you're involved in hostilities with them, they are enemy combatants, which allows you to detain them," Rubio said about Islamic State and al-Qaeda jihadists. "We don't do that any more under this president, so we don't gather intelligence any more. But we should be doing that. And that's that on a legal front."
The answer from Rubio, who opposes closing the U.S. military prison at Guantanamo Bay, was a nod to the ongoing debate between Obama and congressional Republicans over what to do with militants captured overseas. The administration no longer sends detainees to Guantanamo, instead holding terror suspects through the federal court system.
While that pathway imposes limits on potential interrogation time, U.S. officials have attempted to address the issue by first placing detainees aboard Navy ships, where teams interrogate them before any arraignment. Several U.S.-led seizure operations in recent years have followed this track, including the capture of Osama bin Laden's son-in-law in March 2013, who was sentenced to life in prison 19 months later. 
Another legal success for the administration was the conviction last year of radical Islamic cleric Abu Hamza al-Masri, who supported al-Qaeda and Taliban terrorists was sentenced to life in prison.
"To the extent that we do detain terrorists, they are held briefly, sometimes on Navy ships, before being turned over to the FBI and brought to the U.S.," Rubio spokesman Alex Conant said in an e-mail when asked about Rubio's statement that the U.S. no longer detains and gathers intelligence from suspected terrorists.
"Obama views terrorism as a criminal enforcement matter," Conant wrote. Rubio and other conservatives, Conant said, "believe terrorists should be held and interrogated as enemy combatants."
In New Hampshire, Rubio also advocated for greater U.S. involvement in the Russian-led conflict in Ukraine, more support for Latin American democracies, and greater involvement in resolving China's territorial claims in Asia.
America can't solve those problems alone, and nor should it try, Rubio said. 
"But none of them can be solved without some American leadership," Rubio said inside a timber-framed barn in Hollis. "There is only one nation capable of convening the freedom- and peace-loving people of the world to take action, and that's ours. But we won't as long as we're governed by a president who believes that America is often the cause of these problems, not the cure."
For more, read this QuickTake: U.S. War Powers