Billionaire Roekke's Det Norske Reviews Funding as Oil Drops
Mikael Holter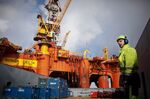 Det Norske Oljeselskap ASA, the oil producer controlled by billionaire Kjell Inge Roekke, is reviewing its funding options and cutting costs as a plunge in crude prices caps the cash flow it needs for new projects.
The company is able to raise more debt and may also issue new shares, Chief Executive Officer Karl Johnny Hersvik said in an interview after presenting fourth-quarter results. The Trondheim, Norway-based company can solve its funding issues without selling assets, which include a share in Johan Sverdrup, Norway's biggest discovery in decades, he said.
"We're trying to create the optimal capital structure, at the lowest possible cost to our shareholders," Hersvik said. "We view our asset base as the basis for our funding. So it wouldn't necessarily be logical to start selling."
The company, which reported a net loss of $287 million in the fourth quarter, has identified cost cuts of more than $100 million this year. This may include job cuts, Hersvik said.
A 50 percent slump in oil prices from June to below $60 a barrel has put Det Norske in a squeeze just as it prepares for its biggest investment at the Johan Sverdrup field. Det Norske's share of capital expenditure in the project's first phase alone is 14 billion kroner -- almost twice its current market value.
Det Norske fell 1.8 percent to 36.45 kroner as of 11:23 a.m. in Oslo, falling for a third day.
"We believe more equity is likely," Teodor Sveen Nilsen, an analyst at Swedbank AB, said in a note to clients. "We doubt the share will be a winner in the near term future and we will most likely keep our neutral recommendation."
Equity Ratio
Oil prices started falling last year just after Det Norske agreed to acquire oil fields from Marathon Oil Corp. for $2.7 billion to boost its production and cash flow, securing a $3 billion loan and raising $500 million in new equity. The oil-price slump changed the company's assessment that it was fully funded until Sverdrup's production start in 2019.
Det Norske, 50 percent owned by Roekke's Aker ASA holding company, is currently negotiating adjustments to the terms of its 1.9 billion-krone bond, Hersvik said, declining to provide more details.
The company will probably have to pay a higher interest rate in exchange for creditors removing an equity-ratio requirement of 25 percent, Swedbank's Sveen Nilsen said earlier this week.
The adjusted equity ratio fell to 15.5 percent in the fourth quarter and will remain below 25 percent for several quarters to come, Hersvik said. A default on the bond is declared if the ratio stays below 25 percent for two consecutive quarters and isn't remedied within the following quarter reporting date.
Det Norske's net loss widened to $287 million from $56 million a year earlier. The result was impacted by a net impairment charge of $319 million, which was in line with an earlier announcement of a $320 million to $340 million charge.
The company reiterated a production target of 58,000 to 63,000 barrels of oil equivalent a day in 2015, and said it expected to invest $950 million to $1 billion this year. About 15 percent of this year's capital expenditure will be allocated to the Johan Sverdrup project, it said.
(Earlier version of this story corrected the adjusted equity ratio.)
Before it's here, it's on the Bloomberg Terminal.
LEARN MORE