Annaly's CEO Sees Central Bankers as Possible Blood-Letters
Jody Shenn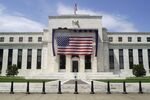 Annaly Capital Management Inc.'s Wellington J. Denahan said she thinks central banks' efforts to revitalize their economies may one day be seen as the 21st-century equivalent of the medical belief in the benefits of bleeding patients.
On a conference call today to discuss the mortgage-investment firm's earnings, the chief executive officer talked about "blood-letting," a "popular prescription for many ills" until the late 1800s, and the similarly abandoned view that life could be created by spontaneous generation to explain her "healthy dose of concern" over the potential results of all the stimulus.
"My hope is that as policy makers of the world continue to prescribe their remedies for the ailing economic patient, that they do not render it worse off," she said. "As with their predecessors, I suspect there is no doubt in the minds of our central bankers that they are the smartest they've ever been. Yet, I fear they are not the smartest they will ever be."
The unprecedented central bank actions and strange markets they've created that Denahan cited are no secret: Policy makers have been ballooning their balance sheets with asset purchases and regularly cutting their targets for short-term interest rates, leading to negative yields on trillions of dollars of government bonds and unusual support for stock markets.
'Longstanding Theories'
While her remarks were meant to illustrate "how history is littered with longstanding theories and beliefs that ultimately prove incorrect," Denahan isn't the only financial CEO to offer comments about central bankers referencing blood-letters.
"Much like Theodoric of York, the medieval barber on 'Saturday Night Live' whose solution to every health problem was more bloodletting, central bankers continue to force liquidity in the banking system without any objective proof that it is helping," Alleghany Corp.'s Weston Hicks said in a 2013 letter to the New York-based insurer's shareholders, referring to a Steve Martin character on the television show.
Annaly Capital, which ended 2014 with $88.4 billion of assets, is the largest real estate investment trust that buys mortgage debt, mainly government-backed home-loan securities. The New York-based company has been limiting its use of borrowed money to reflect its concerns, Denahan said.
Economic Returns
A measure of the REIT's leverage, which ended last year at 5.4 times, is 40 percent below the industry average, giving it dry powder for increasing holdings once "clear relative value opportunities present themselves," said President Kevin Keyes.
The company's dividends and increases in its net asset values last year translated into a measure of profits known as economic returns of 18.1 percent, compared with an average of 14.7 percent for nine competitors, according to a report by JMP Securities. That compares with a negative 14.3 percent economic return at Annaly the prior year, as bond markets were roiled by concern over the Federal Reserve's plan to end its debt buying.
Higher interest rates would now be beneficial for many mortgage REITs like Annaly because their earnings would gain more from a decrease in costs tied to homeowner refinancing than their asset values would drop, Denahan said.
"As we have stated many times before we welcome the return of normalcy to the markets," Keyes said. "This includes the return of market-driven pricing and volatility."
Before it's here, it's on the Bloomberg Terminal.
LEARN MORE