Americans Are Still Housing Bulls, Just Ask Home Depot or Lowe's
Matt Townsend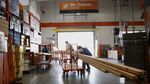 Americans are still housing bulls.
Need proof? Just look at the blowout fourth quarters Home Depot Inc. and Lowe's Cos. reported this week. Both home-improvement chains posted profit that topped analysts' estimates and beat revenue projections by the most in six quarters.
While economists questioned whether rising interest rates will put a damper on the almost six-year housing recovery, sales at Home Depot and Lowe's established stores advanced more than 7 percent. Even more telling is that expensive projects drove the gains. Purchases above $900 spiked 10 percent at Home Depot. At Lowe's, receipts greater than $500 surged 13 percent.
"Consumers are feeling better about their jobs, their wages and certainly feeling better about the value of their home," Lowe's Chief Executive Officer Robert Niblock said in a telephone interview. "They are re-engaging in projects that they have put off."
At Home Depot, contractors also are showing renewed confidence and buying more items each time they stop into stores, said Chief Financial Officer Carol Tome. Sales to professionals rose more than they did for the company as a whole, she said.
"If they are putting more items in their basket, it means they have work coming at them," Tome said yesterday in an interview after the Atlanta-based chain reported its results. "That's a sign of health."
Housing Market
The housing rebound still has plenty of potential headwinds. The Federal Reserve is expected to raise interest rates this year, which would increase borrowing costs for homebuyers. Many Americans are also priced out of the market because of a dwindling supply of homes for sale.
While there are signs that millennials are finally getting the jobs and confidence to move out of their parents' homes, household formation is still relatively weak.
Of all the data points about the housing market, what matters most to Lowe's and Home Depot are home values because they drive people to spend on repairs and remodels. Gains in home prices slowed much of last year then picked up speed in the fourth quarter. The median price of an existing single-family home rose from a year earlier in 86 percent of the 175 metropolitan areas measured, the National Association of Realtors said in a Feb. 11 report.
Bullish Survey
Lowe's, based in Mooresville, North Carolina, has surveyed consumers every quarter since 2007, and the portion of people who said in the most recent poll that the value of their home is rising increased to 50 percent, the most ever.
"That's certainly good for their willingness to spend on the home," Niblock said. Rising values of existing houses will be the single-biggest driver of Lowe's business, he said.
Even more good news comes from the remodeling industry. A survey by the National Association of Home Builders during the fourth quarter showed the number of companies seeing increases in major projects and committed work for the next three months are at all-time highs.
Both Home Depot and Lowe's saw their same-store sales accelerate throughout the quarter, with January having the strongest results. The trend may bode well for the spring, which is their biggest selling season because warmer weather spurs the most repairs and landscaping. The chains also may have easy comparisons because prolonged cold weather last year delayed purchases in parts of the U.S.
"From all the drivers out there, I feel really good about spring," Niblock said.
Before it's here, it's on the Bloomberg Terminal.
LEARN MORE