Yellen Downplays Currency Wars by Defending Policy Changes
Lananh Nguyen and Rachel Evans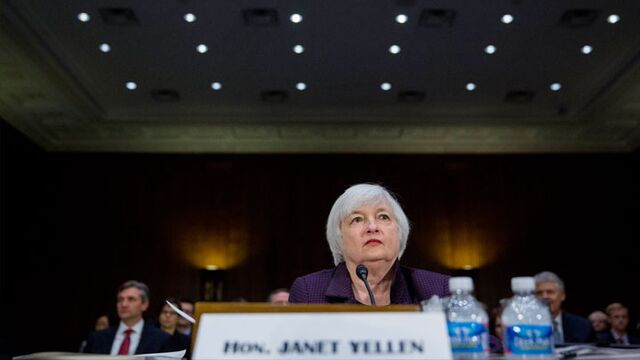 Federal Reserve Chair Janet Yellen is downplaying the notion that central bankers around the world are engaging in what's been labeled a currency war.
"Monetary policy oriented toward domestic goals like price stability, or in our case, price stability and maximum employment -- this is a very valid use of a domestic tool for a domestic purpose," Yellen said Tuesday in response to a question during testimony to Congress. "The use of that tool can have repercussions on exchange rates, but I really think it's not right to call that currency manipulation and to put it in the same bucket as interventions in exchange markets that are really geared toward changing the competitive landscape to the advantage of a country."
Central bankers from Europe to Australia have engaged this year in bouts of rate-cutting one-upmanship, raising concern that nations are seeking to gain unfair advantage in trade rather than spur economic growth. While policy makers should be on guard against manipulation, officials need to retain the tools needed to meet policy objectives, Yellen said.
"Currency manipulation that is undertaken in order to alter the competitive landscape and give one country an advantage in international trade is inappropriate and needs to be addressed," Yellen said. "That said, they're are many factors that influence the value of currencies including differences in economic growth and capital flows."
Policies that impose sanctions for currency manipulation into trade agreements could hobble the effectiveness of monetary policy, she said.
Trade Partnership
Currency manipulation must be addressed as part of U.S. negotiations on a trade agreement known as the Trans-Pacific Partnership, Rep. Sander Levin of Michigan said in reaction to Yellen's testimony. The practice has negatively affected trade and "likely" cost millions of jobs, Levin said.
A trade-weighted index of the U.S. currency climbed to its highest since April 2009 last month. The dollar has risen 21 percent against the euro in the last 12 months and 16 percent versus the yen in the same period.
The strong greenback is "a persistent source of restraint" on exports, the Fed said in minutes from its January meeting, fueling talk of a currency war.
Such epithets are "needlessly alarmist," Marc Chandler, global head of currency strategies at Brown Brothers Harriman & Co. in New York, said by phone. "We can have beggar-thy-neighbor types of policies, but nobody really wants them and so basically they've sworn them off."
There's a difference between a nation cutting interest rates to boost growth and intentionally devaluing its currency, Chandler said.
"It's a negative-sum game," Chandler said. "Everybody loses. You're not stimulating. You're borrowing demand from somebody else."
Before it's here, it's on the Bloomberg Terminal.
LEARN MORE