Toyota's Car of Future Starts on Anniversary of Crisis
Craig Trudell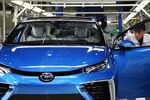 Toyota Motor Corp. chose an unlikely birthday for its Mirai fuel-cell vehicle, the car it pitches as nothing less than "a turning point in automotive history."
Five years ago, Toyota's sudden-acceleration recall crisis put President Akio Toyoda on the hot seat before members of the U.S. Congress and in tears before sympathetic dealers. Today, the founding-family scion was at a factory to formally mark the roll out of a car named after the Japanese word for "future."
"Every Feb. 24, we at Toyota take the opportunity to reflect on the recall crisis, doing everything we can to ensure its lessons do not fade from memory," Toyoda said today. "For us, that date marks a new start."
Rare as it might be for companies to draw attention to a low point in their history, the Motomachi plant that's building Toyota's hydrogen-powered Mirai won't be alone in getting a reminder. The February edition of an internal company magazine highlighted the anniversary, reminding employees to think about the customer and keep quality up to snuff.
"It is quite unusual that Toyota is holding this event on an anniversary of a time many in Toyota would think was a time best forgotten," said Jeff Kingston, director of Asian Studies at Temple University's Japan campus in Tokyo. "Do you think Ford Motor Co. launches any product on the day they retired the Pinto? It's not just in Japan that this is unusual -- worldwide, companies usually don't draw attention back to rough patches."
Manual Production
Toyota is manufacturing the Mirai in the same space that it built the Lexus LFA supercar. A team of 13 people will manually assemble three cars per day without use of conveyors common in its mass-production factories, Mitsuyuki Suenaga, an assistant manager at the Motomachi plant, told reporters today.
As part of production checks, workers will pump helium gas through the pipes that connect the Mirai's two hydrogen tanks to the fuel-cell stack to ensure there are no leaks after the installation process, Suenaga said.
Toyota has come a long way in the five years since its 58-year-old president committed to restoring trust in the company he said had been squandered because it grew too fast. The carmaker managed to outsell all other manufacturers each of the last three years, even as Toyoda has resisted building new car factories since 2012.
Profit Forecast
For the year ending in March, Toyota has forecast a record 2.13 trillion yen ($17.9 billion) profit. With a market value of 28 trillion yen at the close in Tokyo trading, the company is approaching its 2007 peak of 30.1 trillion yen.
The Mirai, selling for 7.24 million yen, represents Toyota's bet that the emissions-free cars of the future will run on hydrogen. The wager will be a small one initially, with the company planning to build just 700 of the sedans in 2015.
By contrast, Toyota sold more than 860 Camry sedans per day in January to U.S. customers. The Toyota City, Japan-based company intends to produce about 2,000 Mirai sedans in 2016 and 3,000 in 2017.
"We made a conscious decision" on the timing of the event, Toyoda said today. "I want us to think of this as the day when we took the first step toward the realization of a hydrogen-based society."
Toyota last month said it will make about 5,680 hydrogen fuel cell-related patents available to the rest of the industry, royalty free. Toyoda today declined to say how many companies may take the automaker up on its offer.
"To achieve a hydrogen-based society, it's not something that one automobile company can do," Toyoda said. "We need to have a lot of participation from multiple companies."
Before it's here, it's on the Bloomberg Terminal.
LEARN MORE