Shelby Signals Support For Curbs on Some New York Fed Powers
Jeff Kearns and Christopher Condon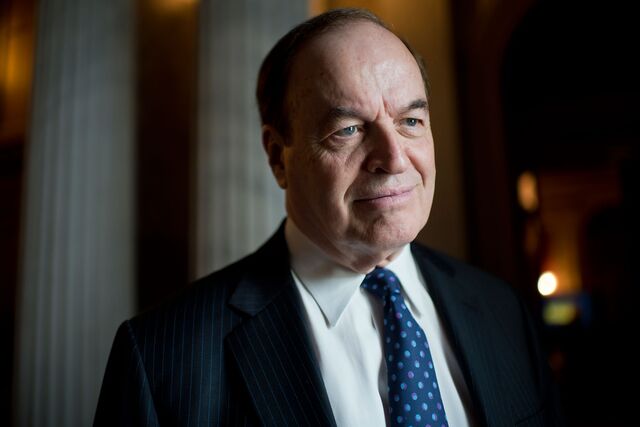 Senate Banking Committee Chairman Richard Shelby signaled he may support proposals to overhaul the Federal Reserve's structure, including reductions of the powers held by the Board of Governors and the New York reserve bank.
The Fed "emerged from the financial crisis as a super-regulator" with unprecedented power over the financial industry, Shelby, an Alabama Republican, said today in a statement before Fed Chair Janet Yellen delivers her semi-annual testimony before his panel. "As the Fed grows larger and more powerful, much of this authority has become more concentrated in Washington D.C. and New York."
Shelby's comments suggest he may back a plan introduced earlier this month by Dallas Fed President Richard Fisher to strip the New York Fed of its permanent vote on monetary policy in favor of an equal rotation among all regional reserve banks. The New York Fed also has responsibility for supervision of many of the largest U.S. financial institutions, including Goldman Sachs Group Inc. and JPMorgan Chase & Co.
Shelby announced yesterday that his banking panel will hold a March 3 hearing on Federal Reserve reform, along with other hearings later next month devoted to regulation of the biggest financial firms.
"I and many of my colleagues have been calling for greater accountability and more effective disclosure for years," Shelby said in the statement. He said risks the Fed has taken include holding the main interest rate near zero since December 2008 and boosting the central bank's balance sheet to $4.5 trillion.
FOMC Mystery
"An action of this magnitude has never been undertaken," Shelby said. The thinking of the rate-setting Federal Open Market Committee "remains a mystery" even as "some continue to dismiss calls for change or more transparency."
Fisher's plan, put forth in a Feb. 11 speech, has picked up support from the Independent Community Bankers of America, an industry group that has already been successful in influencing legislation this year about the central bank.
Lawmakers haven't introduced any bill that includes Fisher's proposal.
Fisher, who retires next month, has said the proposal was meant to address concerns that too much power is concentrated at the New York Fed. Last week the plan received the backing of the 6,500-member ICBA. Another ICBA-backed proposal on Fed governance, by Republican Senator David Vitter of Louisiana, became law last month. It requires at least one member of the seven-member Fed board to have community banking experience.
Democratic Senator Jack Reed of Rhode Island on Feb. 23 re-introduced a bill proposing another curb on the New York Fed by requiring Senate confirmation for its president. Currently, the 12 district bank chiefs are selected by their banks' directors and approved by the Fed Board of Governors in Washington. Governors already require Senate confirmation.
The provision was included in an unrelated bill to reauthorize the Terrorism Risk Insurance Act, which passed the Senate 93-4 and was approved by the House on a 416-5 vote.
Before it's here, it's on the Bloomberg Terminal.
LEARN MORE