Scene Last Night: Huntsman, Lazard's Yan Lan, Peter May, Cornell
Amanda Gordon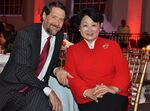 Business is "booming" in the world's most populous nation, Yan Lan, head of greater China investment banking at Lazard, said in an interview Monday night at the China Arts Foundation International gala in New York. "It's a good moment for mergers and acquisitions."
The Beijing-based executive said total Chinese investment in American companies in 2014 was $12 billion, representing 92 transactions. She added that the most activity is in technology, real estate and hospitality, food and agriculture, and pharmaceuticals.
"Chinese companies are looking to update their industry know-how, technology and branding abroad," Yan said.
Yan wore a bright red jacket and black pants to the event celebrating the Chinese New Year. Violinist Stephanie Song performed and 583 Park's waiters served Magnolia Bakery cupcakes decorated with sheep. Guests included Gary Parr, a Lazard vice chairman; Selig Sacks, co-chairman of the international practice at Foley & Lardner, who said work brings him to China 10 days a month; Morgan Stanley's Haiman Cai; designer Vivienne Tam; and Vasilios Philippou, consul general of Cyprus.
Yan, who has raised funds for a music festival in Beijing, sees a new tradition of check-writing in her country. "In 2000, the donors were an international group," Yan said. "Now, the majority are Chinese companies and individuals who are aware of their social responsibilities."
Yan's ties to music go back to her grandfather, who studied engineering at the Massachusetts Institute of Technology and violin at Juilliard.
Huntsman & Kissinger
At the same dinner, Jon Huntsman Jr., the former Utah governor who sought the 2012 Republican presidential nomination, told of his 11-year-old-self's encounter with Henry Kissinger. It was 1971 and Huntsman, visiting his dad in the White House, where Huntsman Sr. worked for President Nixon, found Kissinger preparing for a trip.
Huntsman asked where. "Young man, don't tell anyone," Kissinger replied in Huntsman's telling. "I'm going to China."
Thus began Huntsman's fascination with the country, where he served as U.S. Ambassador between 2009 and 2011.
"I kind of feel I was there at the creation of the U.S.- Chinese relationship," Huntsman said, earning his keep as an honoree of China Arts Foundation International, which promotes cultural exchange between the two nations.
The moderator on stage, Andy Serwer, the former editor of Fortune, asked Huntsman if he's running for president again.
Neighborhood Memories
Huntsman replied that as a diplomat, he'd learned to say something when there's nothing to say, and nothing when there's something to say.
Billionaire John A. Catsimatidis, who sought New York City's Republican mayoral nomination in the last election, also spoke of his childhood Monday night. The occasion was the gala for the Citizens Committee for New York City, which helps individuals improve their neighborhoods with grants ranging from $500 to $3,000.
"When I was a boy, I played stickball in the street," Catsimatidis said. "Sadly, one of the boys I played with went off to Vietnam and never came back. It was a wide street. We took my mother's broomstick and we used Spaldeens."
The event at Gotham Hall didn't precisely honor stickball, but rather some people who've kept New Yorkers safe and healthy, such as former police commissioner Ray Kelly and Angela Diaz, director of the Mount Sinai Adolescent Health Center. Peter May, president of Trian Partners and chairman of Mount Sinai Health System, was on hand to introduce her.
Bronx Gourmets
Also honored were Citizens Committee grantees. Feed Your Mind Music, based in Crown Heights, Brooklyn, taught 16-year-old Caleb McDaniel to play the piano. "It helps me memorize things, I get things faster," McDaniel said.
In Staten Island, kids and cops weeded and planted a garden together outside a precinct with help from H.E.A.L.T.H. for Youths. In Elmhurst, Queens, a vacant lot turned into a community garden. In the south Bronx, Coqui the Chef teaches healthy recipes (guacamole is a favorite), while the South Bronx Farmers Market makes fresh produce accessible.
Retired Goldman Sachs partner Henry Cornell, now head of Cornell Capital, is chairman of Citizens Committee. The Bronx native's pitch when he fundraises: "Save the neighborhood," Cornell said. "Help people help themselves, whether you're a liberal or a libertarian."
Before it's here, it's on the Bloomberg Terminal.
LEARN MORE