Oscars in the Time of Microaggression
Sean Penn's Oscar "gaffe" and the changing politics of the left.
By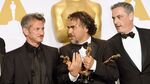 Sean Penn opened the "Best Picture" envelope, and there it was—an old friend's name. Alejandro González Iñárritu, who'd directed Penn in 2003's 21 Grams, was taking the prize for the jazzy, absorbing midlife-crisis drama Birdman.