IBM Employee Count Falls for Second Year in Shift to Cloud
Alex Barinka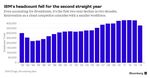 IBM's employee count shrank 12 percent last year as Chief Executive Officer Ginni Rometty has tried to reinvent the 103-year-old technology giant into a more nimble competitor.
It's the second straight annual drop for IBM's workforce, the first two-year decline since 1993 and 1994 when the company was pushed to the edge of bankruptcy. Rometty has been seeking to transform International Business Machines Corp. to keep up with newer competitors in an industry undergoing what she's called "unprecedented change."
IBM had 379,592 employees at the end of 2014, down 12 percent from a year earlier when the company posted the first decline in a decade, according to a filing Tuesday. Excluding a 35,000 reduction from divestitures, headcount fell about 3.9 percent last year.
While Rometty has shifted the company's focus to growing sales for offerings like data analytics and cloud computing, that revenue hasn't grown fast enough to make up for declines in demand for traditional services and hardware businesses.
"We have more to do and we need to do it faster," Rometty said in October, after telling investors that the company would no longer reach the $20-a-share earnings goal for 2015 instated by her predecessor Sam Palmisano in 2010.
Boosting Profit
To help boost earnings-per-share, Rometty has fired and furloughed workers, cut IBM's tax rate and bought back shares. She has also offloaded less-profitable business units last year, like the low-end server business sold to Lenovo Group Ltd., a customer-care business and the chip-making unit, which IBM paid Globalfoundries Inc. $1.5 billion to take off its hands.
"IBM has 15,000 open positions right now, many in areas such as analytics, cloud, security where we are rebalancing skills to meet the evolving needs of our clients," said Ian Colley, a spokesman for IBM.
Newer competitors like Amazon.com Inc. and Microsoft Corp. have grown their cloud computing businesses, and rivals from Salesforce.com to Workday Inc. have lured customers to their online software. Meanwhile, IBM has invested in adapting to an industrywide shift where customers increasingly purchase cloud-delivered products.
Since late 2014, Rometty has shaken up the global organization, creating a new business around cloud-computing, where software and services are delivered to customers online. She's also created a new division around the Watson data-analytics technology.
Still, with per-share profit falling last year for the first time since 2002, investors have not rewarded her for the changes. IBM's stock fell last year and in 2013, earning it the spot of the worst performer in the Dow Jones Industrial Average for the second straight year.
'Workforce Rebalancing'
That reorganization has also included firings, with IBM spending more than $1.5 billion on restructuring its workforce last year. In the fourth quarter, a $580 million charge for "workforce rebalancing" equated to the firing of "several thousand people," the company said last month.
With a change in its severance package last year, IBM has also made it more difficult and riskier for dismissed older employees to decide whether it's worth pursuing age-discrimination claims. The move also allowed the company to withhold data on job titles and ages of workers being let go -- information that has been released for at least a decade and helped people glean how many employees were dismissed.
Before it's here, it's on the Bloomberg Terminal.
LEARN MORE