Hewlett-Packard Plunges After Profit Forecasts Trail Estimates
Jack Clark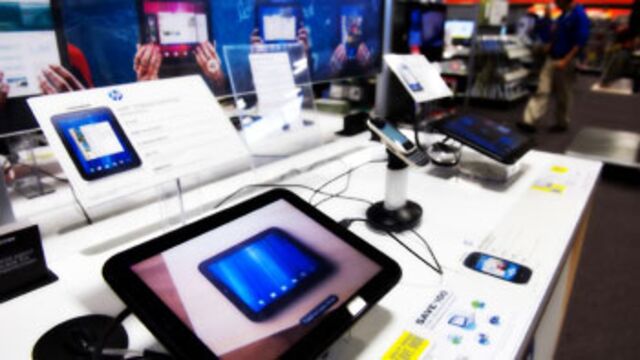 Hewlett-Packard Co. shares plunged after the company forecast quarterly and full-year profit that trailed analysts' estimates, saying a rising U.S. dollar will hurt results as the computer maker prepares to split in two.
Shares were down 8.6 percent at 9:36 a.m. Wednesday, the largest intraday drop since August 2013. Hewlett-Packard said profit before certain items in the fiscal second quarter ending in April will be 84 cents to 88 cents a share. Analysts on average projected 95 cents, according to data compiled by Bloomberg. For fiscal 2015, profit will be $3.53 to $3.73 a share, short of an estimate for $3.95.
Hewlett-Packard, which gets about two-thirds of its sales overseas, said the impact of foreign-currency exchange rates will be greater than it anticipated last year. At the same time, the rise of services delivered via the Internet, also known as cloud computing, is chipping away at sales and earnings from traditional storage equipment and hardware.
The Palo Alto, California-based company, which is breaking up to become more responsive to corporate customers, said it will incur about $2 billion in costs over two years related to the split.
"The thing that we're wrestling with is the separation cost is so high," said Jayson Noland Sr., an analyst at Robert W. Baird & Co. who rates the company the equivalent of a hold. "We didn't appreciate how much it would cost -- that's a lot."
International Revenue
The dollar has gained 21 percent against the euro in the past 12 months, eroding the value of revenue U.S. companies generate overseas when it's brought back home. Hewlett-Packard got 65 percent of sales outside of the U.S. in fiscal 2014. That compares with 55 percent outside the Americas at International Business Machines Corp., and 83 percent for Intel Corp.
For the first quarter, which ended Jan. 31, profit before certain items was 92 cents a share, compared with an average prediction of 91 cents. Net income fell to $1.37 billion, or 73 cents, from $1.43 billion, or 74 cents, a year earlier.
Sales shrank 4.7 percent to $26.8 billion from $28.2 billion, short of an average analyst estimate for $27.3 billion, according to data compiled by Bloomberg.
Sales in Hewlett-Packard's personal-computer unit and the enterprise group were little changed in the quarter from a year ago, while sales in its higher-margin printing division fell 5 percent to $5.54 billion. Revenue in enterprise services, software and financial services all fell in the first quarter.
Split Costs
The company's planned breakup will form two publicly traded companies, one selling corporate equipment and services and the other focused on PCs and printers. The $2 billion in costs for the split reflects a forecast of $1.3 billion of charges for fiscal 2015, an estimated charge of $500 million for 2016, and separation-related capital spending of $300 million this year, Chief Financial Officer Cathie Lesjak said on a conference call with analysts. Hewlett-Packard also anticipates foreign tax expenses of $950 million relating to the split, though half of that may be offset by tax credits.
These costs, combined with the strength of the dollar relative to other currencies, led the company to lower its free cash flow guidance for fiscal 2015 to $3.5 billion to $4 billion, from $6.5 billion to $7 billion. The company also repeated its plan to cut 55,000 jobs by the end of this fiscal year.
Weakness in the company's divisions may ripple out into its suppliers. More than 20 companies derive at least 10 percent of their revenue from Hewlett-Packard, including key component makers and manufacturers Hon Hai Precision Industry Co., Quanta Computer Inc. and Intel Corp., according to data compiled by Bloomberg.
Acquisition Outlook
Chief Executive Officer Meg Whitman has steered clear of making large acquisitions since taking the helm in 2011. The company has made a number of small deals while dealing with the fallout of its $10.3 billion purchase of U.K.-based Autonomy in August 2011, which led to an $8.8 billion writedown. Now, Whitman said the company may be on the lookout again.
Hewlett-Packard is "now in a position where we can actually make acquisitions, which we couldn't when we started," Whitman said in an interview after results were released.
Still, CFO Lesjak said there's no one area where the company is seeking to add to its product line.
"We don't think there's a gaping hole anywhere," Lesjak said in an interview.
Investor Focus
Investors are focused on the planned breakup, and the performance of the two companies that will result. The split is expected to be completed in the last quarter of this year.
Once the breakup is final, Hewlett-Packard will probably start changing more rapidly to tackle transitions in markets where it competes, said Dan Morgan, a senior portfolio manager at Synovus Securities Inc., which owns 277,834 shares of Hewlett-Packard.
"The catalyst isn't a new software acquisition, it isn't a new service -- it's going to be these two separate companies," Morgan said. "Until then we're waiting to see when this happens."
Whitman will run Hewlett-Packard's enterprise company, and Dion Weisler will lead the new HP Inc., centered on PCs and printers. The two have spent the past year trying to convince investors that each of the company's businesses is capable of inventing its way back to technology leadership.
R&D Plan
The executives have outlined a research-and-development plan for a new type of high-margin computer called the Machine, and debuted servers that use low-power chips from U.K. semiconductor designer ARM Holdings Plc. They've also unveiled a new category of 3-D-capable PCs named Sprout, created a cloud-computing service named Helion, announced water-cooled high density servers, and taken the wraps off new technology to let Hewlett-Packard enter the market for three-dimensional printers.
The flurry of new products and initiatives in wildly different areas gives further justification for the split, Morgan said.
"Regardless of how you slice the piece of bread, you've got to deal with these industry trends, and are you better equipped to do that as two separate entities or as one?" he said. "I guess they feel they're more nimble as the two."