Miss Turkey on Trial for Allegedly Insulting President Erdogan
Isobel Finkel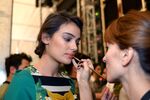 A former Miss World contestant is among the latest targets of prosecution for allegedly insulting Turkish leader Recep Tayyip Erdogan, as a crackdown on criticism extends to individuals on social media.
Since Erdogan was elected president in August, 67 people have been charged with insulting him, about one case every three days, Diken news reported on Feb. 21. A prosecutor has requested more than four years in jail for Merve Buyuksarac, a model who was Miss Turkey in 2006, for a satirical poem she posted on the photo-sharing site Instagram, the official Anadolu Agency reported Tuesday, citing the indictment. A lawyer for Erdogan submitted a complaint about the 26 year-old model in November last year, it said.
The Buyuksarac case shows government pressure widening to individual commentary from news media, according to Susan Corke, director of Eurasia programs at Freedom House, a rights watchdog based in Washington. Turkey's ranking on the Reporters Without Borders Press Freedom Index deteriorated during Erdogan's 11 years as prime minister, dropping to 154th last year from 99th in 2002. That puts it behind countries including Iraq, Russia and Democratic Republic of Congo.
'Twitter, Shmitter'
"It used to be that Turkish leaders would go after journalists for their columns and reporting," Corke said by e-mail on Tuesday. "Now with social media, President Erdogan and many other Turkish leaders like Ankara Mayor Melih Gokcek have turned the attack on the whole society."
Lutfullah Goktas, a spokesman for Erdogan, didn't immediately respond to requests for comment by e-mail and phone on Wednesday. Erdogan told a group of businessmen on Feb. 4 that he's exercising his "right to self-defense" through court cases against insults.
Gokcek, who's been mayor of Turkey's capital city since 1994, has more than 2.4 million followers on Twitter and uses it as a platform to announce insult cases and social media campaigns against journalists. That contrasts with the approach of Erdogan, who lobbied to ban the site last year, calling it "Twitter, shmitter." The Turkish leader personally posted his first tweet, an anti-smoking message, earlier this month.
Twitter Ban
Turkey banned access to Twitter entirely ahead of elections in March, 2014, amid leaks relating to a corruption probe that started the previous December. The Constitutional Court reversed the ban after the vote. Turkey made more government requests to remove content than any other country in the second half of last year, according to Twitter's latest transparency report.
Buyuksarac, the model, says she didn't insult Erdogan and that she's preparing with her lawyer to fight any charges.
"I didn't insult the president - at that time he was prime minister, so it changes the case," she said by text message. "I only shared the poem, which was shared by 960,000 people in Turkey, and which is also not an insult."
The Turkish penal code makes it a crime to insult public officials. A separate law is applied for insults to the president, and an investigation against Buyuksarac for that offense was dropped because Erdogan was prime minister at the time of the Instagram posting, Anadolu Agency reported.
The poem was an excerpt from Uykusuz, a local satirical magazine, Anadolu said. Buyuksarac immediately erased the post after a friend warned her that she could be tried, it said, citing statements to prosecutors.
'The Master'
The poem was about a person boasting of getting away with theft for 11 years and was called "The Master's Poem." Erdogan's supporters commonly refer to him as "The Master," a reference to his remark that his third term as prime minister would be his "master phase."
Erdogan has himself been jailed over a poem. He served four months in prison for reading an Islamic poem at a rally in southeast Turkey in 1998, after prosecutors said it challenged the nation's secular order. Erdogan says his government has expanded freedoms since then.
Turkey holds parliamentary elections on June 7, the last scheduled vote until 2019. The president has been staging mass rallies to help the government win a big enough majority to convert the political system into one dominated by a strong president rather than by parliament.
Before it's here, it's on the Bloomberg Terminal.
LEARN MORE